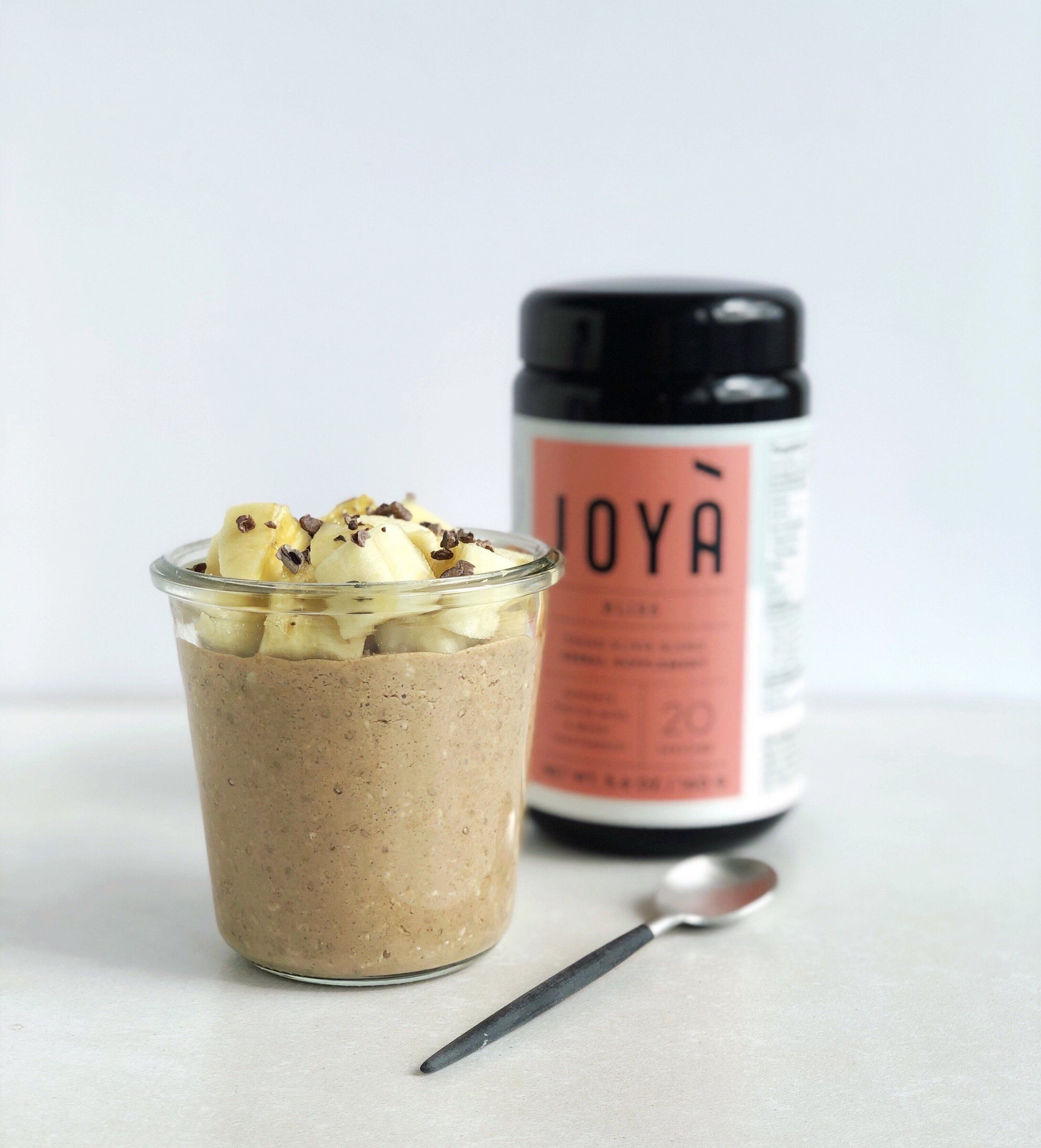 For some, breakfast is a moment of tranquility before the day gets hectic, and for others, it's simply the one meal that needs to be quick and easy to grab before running out the door. Breakfast can set the tone for the day, while also being the perfect opportunity to nourish your body with the nutrients and superfoods needed to fuel your day. And to savor some chocolate.
In addition to cocoa-y lusciousness, our Calm Cacao Superblend is an adaptogenic blend which brings calming, stress-supporting and immune-boosting goodness to your morning. Keep reading for our favorite ways to incorporate Calm Cacao Superblend into our morning routine. 
1. Overnight Oats
Our first contender is a fast and easy breakfast option — overnight oats! What is considered a blank canvas for every breakfast mood, can be made in a single serving or a week's worth at a time, with any topping your heart desires. Our Chunky Monkey Overnight Oats and Tahini-Cocoa Overnight Oat & Chia Pudding are both extravagant and easy recipes featuring our Calm Cacao Superblend.
2. Waffles
Waffles are one of those breakfast items that are kinda fancy but also really simple to make; if you have a waffle iron, of course! Waffles can also serve as double the vessel for Calm Superblend by adding it into the batter, and topping the waffle off with it as well, in the form of a Baklava Nut Bliss Butter or Hazelnut-Cacao Bliss Butter. These Grain-Free Cacao Bliss Waffles are unlike anything you've had before. No need to waffle about making them.

3. Rice Pudding
Perhaps the least suspecting of the Calm Cacao Superblend breakfast club is this Rice Pudding. What is often considered a dessert or snack actually makes for an incredibly nourishing breakfast dish. You only need a little rice to take you from hungry to full, and same goes for the nutritious and delicious JOYÀ-fied Rice Pudding recipe.

4. Grain-Free Cereal
For those seeking the cozy, warm feel of a bowl of porridge or oatmeal but without the grains, look no further. Our Cacao-Tahini Grain-Free Hot Cereal is a Middle Eastern inspired breakfast delight rich in healthy omega essential fats, plant-based protein, fibre and of course, chocolatey goodness.
5. Smoothies
What can we even say about smoothies that you don't already know? They are an amazing way to pack in your nutrients, all in one cup. Toss in some nut milk, greens, veggies or fruits, and then upgrade the blend to superfood level with our Calm Cacao Superblend. And since chocolate goes with everything from a variety of fruit to coffee, check out our Calm Superblend Smoothie Roundup for recipe inspo!

6. Granola
Granola is one of those foods that's incredibly versatile. It can be breakfast or a snack, or even a topping for desserts. It can fuel your everyday mornings as well as your hikes through the mountains or woods. It has so much potential to be everything you want it to be, and so much more. We love this Chocolate Tahini Granola in the morning sprinkled on top of a yogurt parfait or a smoothie bowl.
7. Chia Pudding
And another versatile and easy-to-whip-up option on this list. Although teeny is size, chia seeds pack a nutritional punch with fiber, plant-based protein, Omega 3 & 6 fatty acids and a number of minerals. Chia pudding, similar to overnight oats and rice pudding, can be prepared ahead of time; the night before or for the week ahead. Here is an easy 4 ingredient, step-by-step recipe guide to chia pudding, and some of our favorite flavor and topping combos include: Tahini-Cocoa Overnight Oat & Chia Pudding, Magic Mushroom Mocha Chia Pudding and Super Easy Chocolate Chia Pudding.