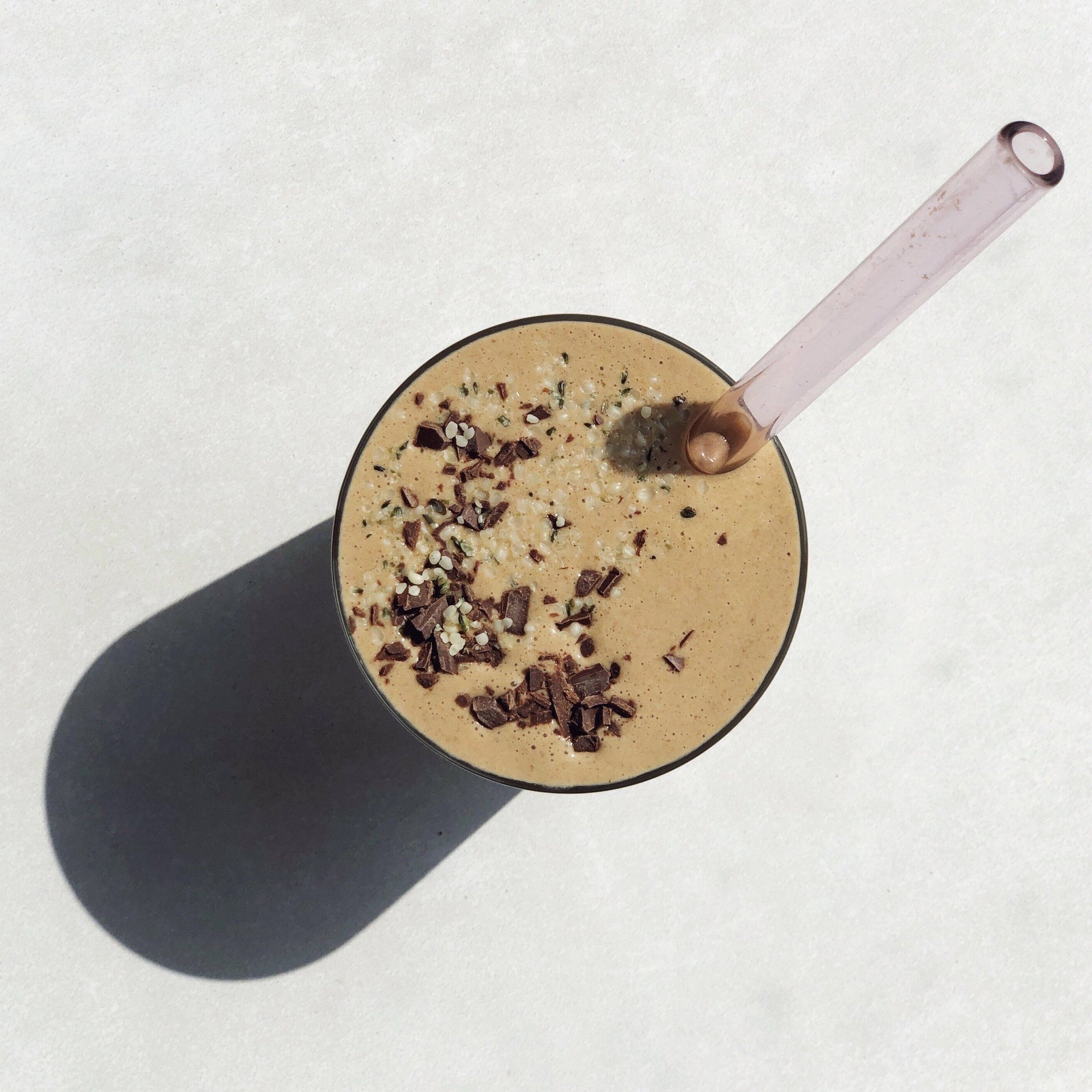 Veggie, berries, bananas, protein powder, nuts, seeds, dairy-free milk, cocoa butter, dates, bee pollen, nut butter and Calm Cacao Superblend. What looks like our grocery list is actually just a list of the many delicious items that find their way into our blender for a superfood packed smoothie.
Smoothies can be runny or thick, slurped with a straw or eaten with a spoon (or even frozen into popsicles!) and with a short or long list of ingredients. You really can't go wrong here! One of our favorite additions is our Calm Cacao Superblend. Along with chocolately goodness, this blend levels up any smoothie with stress supporting, calming and mood boosting herbs and mushrooms.
Keep scrolling for some of our favorite smoothie combinations featuring Calm Cacao Superblend! 

1. Adaptogenic Cherry Garcia Smoothie
Kinda like Cherry Garcia Ice Cream, but also packed with fibre, vitamins and minerals, including potassium, calcium and vitamin A. With a double dose of cacao from chocolate protein powder and our adaptogenic Calm Cacao Superblend, this Adaptogenic Cherry Garcia smoothie will be like having ice cream at any time of day. And that's something we like "cherry" much ;)

2.

"Blueberry Bliss" Virgo Horoscope Smoothie with Cacao and Nut Butter

Inspired by our founder Ruth's gym-going days, this smoothie combination features Cacao and Blueberry; two ingredients rich in antioxidant goodness. This Blueberry Nut Butter Smoothie is perfect as a nourishing, protein rich post-workout treat or an energizing breakfast to get your day started right.

3. Cacao Superfood Protein Smoothie
Packed with superfoods (like avocado, flax and maca), protein, fruit and steamed cauliflower and zucchini make this Cacao Superfood Protein smoothie not only high in nutrients and fiber, but also the creamiest smoothie possible. How's that for a full cup of delicious superfood goodness?
4. Mocha Smoothie
Rich espresso. Chocolatey goodness. Coconut butter, cashews, flax seeds and oats fill this smoothie with protein, healthy fats and fiber along with nutrient-packed superfoods and functional foods found in our Calm Cacao Superblend. This Mocha Smoothie is sure to satisfy those that need caffeine AND sustenance.

5. Papaya Cacao Protein Smoothie
This chocolatey protein-packed smoothie features a double dose of cacao from chocolate protein powder and our adaptogenic Calm Superblend, digestion-supporting papaya, annnnd cauliflower and cucumber! This Papaya Protein Bliss Cacao smoothie is perfect for fuelling you anytime of the day!
6. Chunky Monkey Smoothie
Peanut butter and chocolate. Peanut butter and banana. Chocolate and banana. All classic delicious combos. So it's no surprise that when peanut butter, banana and chocolate come together, they create the most iconic trio of flavors. This smoothie's the perfect combo of all the good things; good fats, fiber and natural sweetness, the Chunky Monkey smoothie is *guaranteed* to satiate and satisfy your every craving.
7. Mexican Mesquite Smoothie
Get ready for a unique and delicious taste experience! This Mexican Mesquite Smoothie has raspberries, sweet potato, tahini, Calm Cacao Superblend, cayenne and mesquite powder. And if you're not yet using mesquite powder in your smoothies and baking, get ready to say "where have you been all my life, mesquite?"