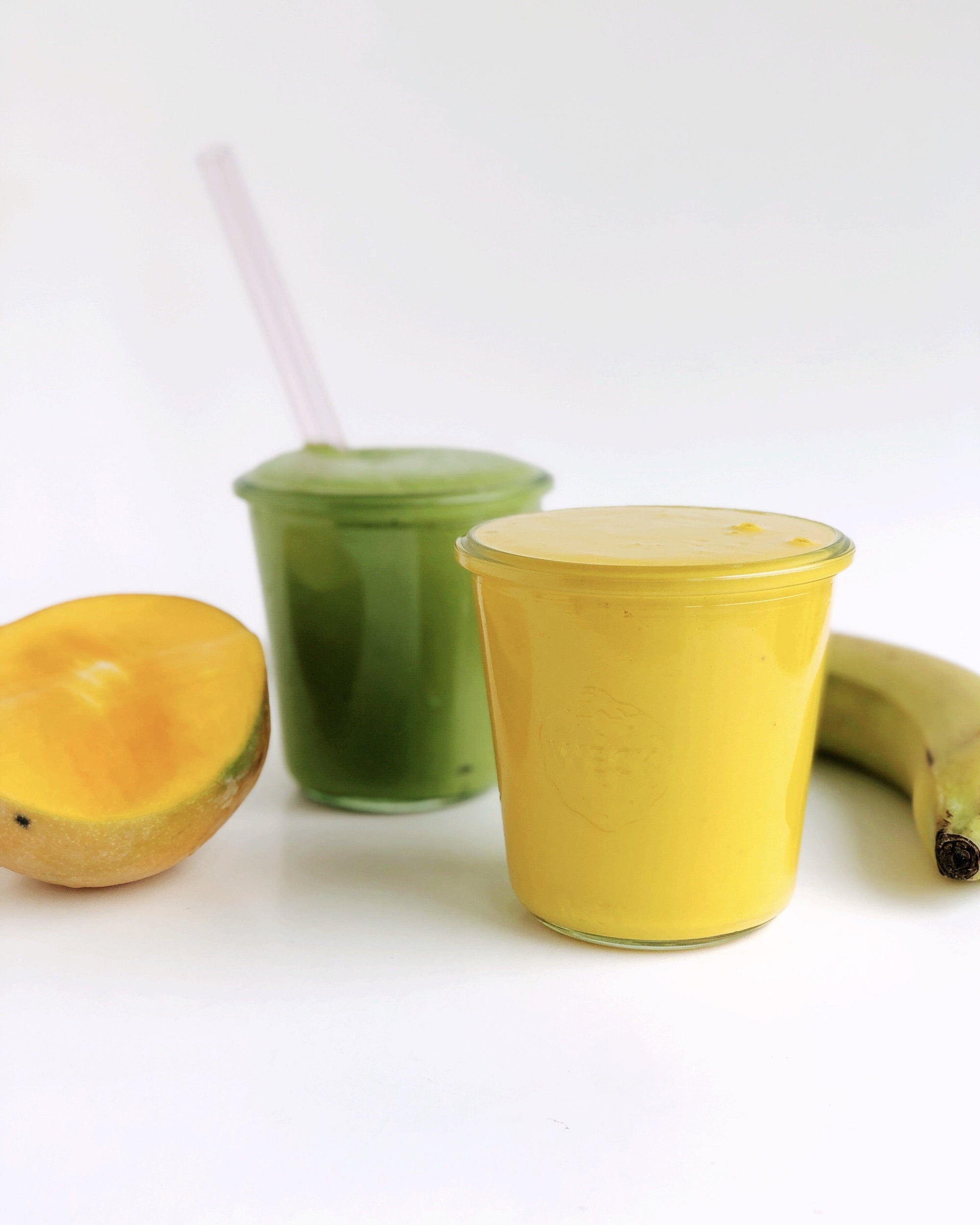 It's no secret that one of the best ways to support your health is ensuring you're getting enough vitamins, minerals and other powerful nutrients found in plants ("phytonutrients") on a daily basis. The easiest way to achieve this is through colorful fruits and veggies. And the most delicious (and convenient) way to pack in a ton of nourishing goodness? That's right, one of the world's greatest culinary inventions: the smoothie. 
How to make a smoothie 
While there's no exact science — and part of the fun is experimenting and customizing — there is one cardinal smoothie rule: you want to include some fruits and vegetables, some protein and some healthy fats so that your smoothie serves as a balanced meal or snack rather than being sugar heavy and in turn, spiking your blood sugar levels.

Without getting too mathematical, we share our go-to, master smoothie formula that allows you to craft any flavor smoothie featuring any ingredients to match your craving and mood. One that's perfect for breakfast, snack or post-workout recovery.

Keep scrolling for some smoothie recipe inspiration with some of our favorites below.
The perfect smoothie formula
1. FRUIT:
¼

- ½ cup

Fruit is not only the flavor anchor of many of our favorite smoothies. It's also a source of fiber, vitamins and minerals, natural sweetness and even powerhouse compounds like antioxidants that help our bodies fight cell damage from oxidation (that unfortunate by-product of internal and external factors such as inflammation, exercise and environmental pollutants).

Let the type of smoothie you crave guide your choice of fruit. Feeling tropical? You might choose mango and pineapple. Going for green? Avocado, bananas and peaches make a perfect base. Or maybe you're all about the berries.

Pro tip: freeze your fruit in advance to keep your smoothie chilled without having to dilute it with ice.
2. VEGGIES, GREENS + HERBS (*OR GRAINS): 1-2 cups
Here's your chance to really pack in those nutrients (hello chlorophyll, fiber, vitamins and minerals) while still enjoying a sweet (or sweet-ish) treat. If you're going for a green smoothie, you'll want about 2 cups or handfuls of leafy greens. Choose just one or mix and match: we love greens such as kale, spinach, chard, parsley, mint and basil.
Some of our favorite smoothie recipes also include herbs such as fresh ginger and veggies such as fiber-rich avocado and even carrots!
There is an exception to the veggie step: if you're making a pre-workout smoothie, you'll want more energizing ingredients and less harder to digest fiber. Or you just might be in the mood for a chocolatey or fruity treat! If so, you might go heavier on the fruit or protein, or add some grains like oats or pseudo-grains like buckwheat flakes or groats. (This blueberry-nut butter-cacao smoothie is one of our go-to's pre- or post-workout!)
Pro tip: steamed and frozen cauliflower florets and/or zucchini rounds are a great low sugar (and flavor neutral) way to add thickness to any smoothie.
3. PROTEIN: 1-2 tablespoons
You don't want to forget some protein, the powerhouse macronutrient that isn't just important for our muscle mass — it's found in virtually every part of our bodies. Adding protein will also help you feel full and satiated longer.
Options include: protein powder, collagen powder, hemp hearts, nuts and seeds/nut or seed butters and yogurt.

4. HEALTHY FAT: 1-2 tablespoons
Fat is important to keep things balanced. But keep in mind that if you're already getting in some fats from your liquid source (e.g. full fat coconut milk or cashew milk) or protein (e.g. nut butter, hemp hearts), you don't need to include additional fat. That said, you can if you'd like — and if you're craving a super-satiating smoothie or higher fat keto-friendly smoothie, go for it!
Options include: nuts and seeds / nut or seed butter, coconut butter, MCT oil, coconut oil, avocado (¼ - ⅓ cup), chia seeds, hemp hearts, ground flax seeds
5. SUPERBLEND: 1 serving
While you can absolutely make a smoothie without functional foods and superfood powders, smoothies are one of our favorite ways to get in our daily scoop of adaptogen-powered Superblends. Each serving packs in stress and immune-supporting adaptogens, antioxidant-rich functional mushrooms and other tonic herbs and superfoods. Plus, that single scoop also delivers flavor-boosting spices!
Choose your Superblend: Cacao, Vanilla-Maca, Matcha or Turmeric


6. LIQUID
Options include: plant-based milk of choice (coconut, oat, almond, cashew, hemp, macadamia, etc), coconut water, water, or even brewed and chilled coffee or tea!
7. GARNISHES + TOPPINGS
These aren't just for looking pretty. The one potential downside to smoothies is that they're easy to slurp down quickly. But remember all the food you packed in! It needs to be digested properly, and when we don't get our digestive juices going by chewing, that smoothie goes right down through your gut without being properly digested.

Pro tip: "chew your smoothie"

That's why we love mixing a tablespoon or two of small garnishes into our smoothies AFTER blending to make sure we still chew while we sip. Just make sure you choose something small enough to get through your smoothie straw!
Options include: hemp hearts, bee pollen, cacao nibs, finely shredded coconut, shaved chocolate
Need some smoothie inspiration?