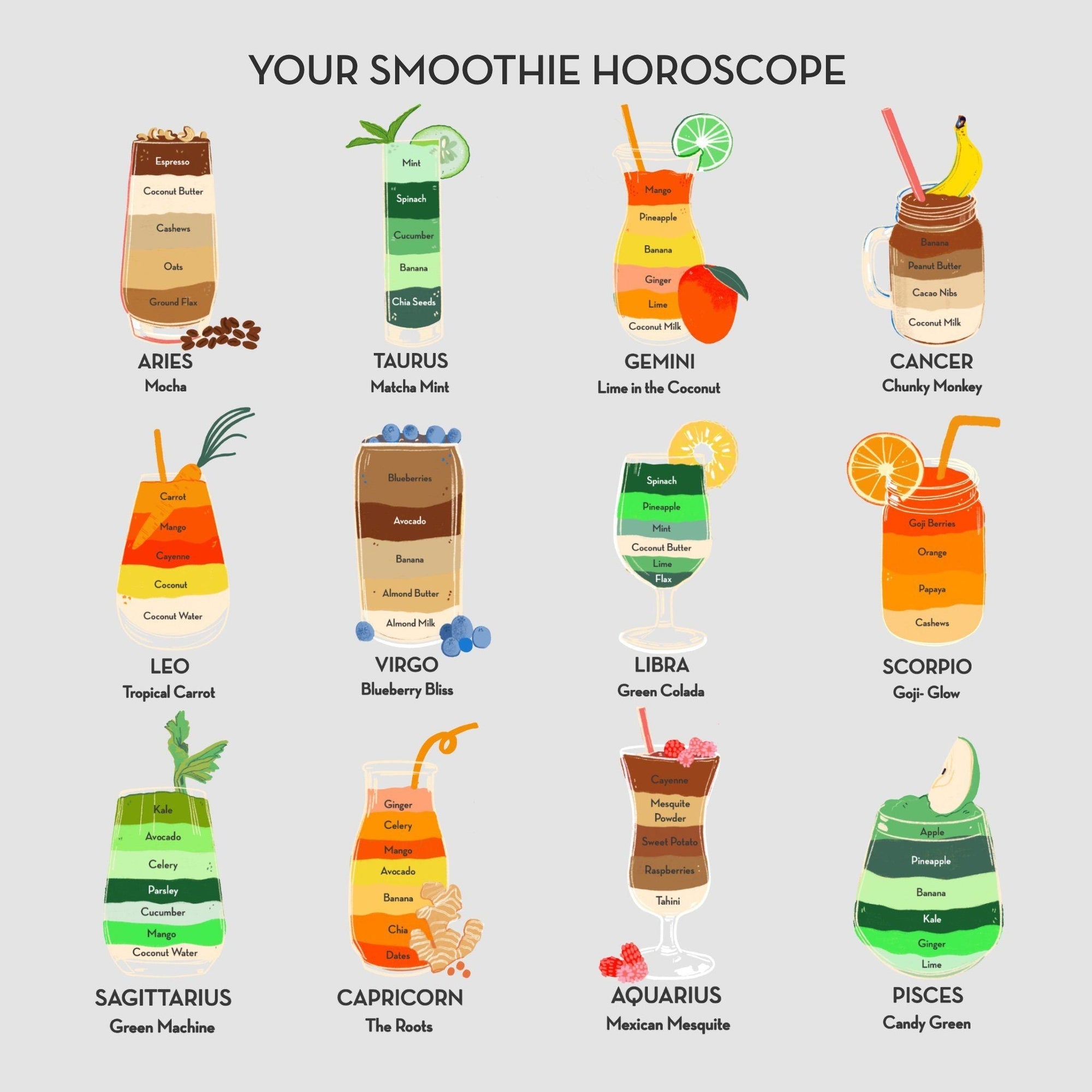 Here is your adaptogenic smoothie lineup. Which smoothie are you?
Aries (March 21- April 20):
Aries are known for being courageous, passionate and confident. So you can feel confident that this Mocha Smoothie packed with Calm Cacao Superblend, espresso, coconut butter, cashews, flax seeds and oats will give you the courage you need to take on the day.
Taurus (April 21-May 20):
With Taurus being the reliable and hardworking type, this Matcha Mint Loaded Greens Smoothie is the reliable smoothie powerhouse you can lean on to fuel you through a hard day's work.
Gemini (May 21-June 21):
Just like the enthusiastic, social and fun-loving nature of Gemini, this Lime in the Coconut Smoothie will transport you to a tropical paradise without stepping foot on a plane. All the fun flavors of a tropical vacation in every sip!
Cancer (June 22-July 22):
Sweet and loving Cancers are known for their loyal, caring and intuitive nature so you know this Chunky Monkey Smoothie is the fun, loving and supporting sidekick you didn't know you needed.
Leo (July 23 - August 22):
And just like the fierce and passionate energy of a Leo, this Tropical Carrot Smoothie is packed with energizing herbs and spices, hydrating coconut water and a touch of heat.
Virgo (August 23 - September 22):
Virgo are known for their perfectionist, dedicated and practical nature so you know this Blueberry Bliss Smoothie is the perfect balance of flavor and nutrition for practically any moment of the day.
Libra (September 23- October 23):
Balance seeking Libra is all about this Green Colada Smoothie. A harmonizing combination of fruits, veggies and healthy fats perfect for those seeking a little more balance in their day.
Scorpio (October 24- November 22):
This Gogi Glow smoothie celebrates the passionate Scorpio we all love. Bursting with orange, gogi berries, papaya and Restore Turmeric Superblend, this smoothie has us all glowing inside and out.
Sagittarius (November 23- December 21):
Celebrating fun and enthusiastic Sagittarius, this Green Machine Smoothie featuring Focus Matcha Superblend, is perfect when a plain ol' smoothie just won't do.
Capricorn (December 22- January 20):
Capricorns are known to be hard-working and disciplined, much like this The Roots Smoothie which is packed to the brim with nutrient dense superfoods.
Aquarius (January 21 - February 19):
Independent, progressive and adventurous, just like Aquarius, this Mexican Mesquite Smoothie stands out from the rest. Sweet, spicy and smooth...remind you of any Aquarians in your life?
Pisces (February 20- March 20):
Compassionate and thoughtful Pisces is just as (naturally) sweet as this Candy Green Smoothie. Banana, apple, lime and pineapple balance out the kale and ginger perfectly, and will make you feel good about eating "candy" for breakfast.