Instructions
Preheat oven to 325F/165C. Line a large baking sheet with parchment paper.
Add all nuts to the baking sheet and toast in the oven for 10 minutes, until aromatic and just beginning to brown. Set aside to cool.
Add cooled nuts to the bowl of a food processor and blend until the mixture starts to get smooth. Pause blending to scrape down the sides of the bowl as necessary. 
Once smooth, add remaining ingredients and continue to blend until butter is ultra smooth and runny. Depending on the strength of your food processor, this can take 5-10 minutes. Patience is key! 
Transfer butter to a glass jars or other airtight container. Store in the fridge for ultimate freshness (butter will solidify) or at room temperature to retain runny consistency. Being a natural butter with no emulsifiers, the oils will separate over time - simply give it a stir before use.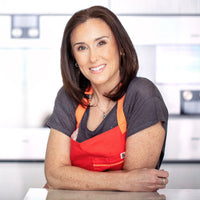 by Ruth Elnekave, CNP
Ruth Elnekave is a Toronto-based chef, holistic nutritionist, culinary instructor, recovering corporate lawyer and founder of JOYÀ. Her projects are fuelled by one main goal: to spread the pure joy and wellbeing experienced when sharing and savouring delicious, real food.