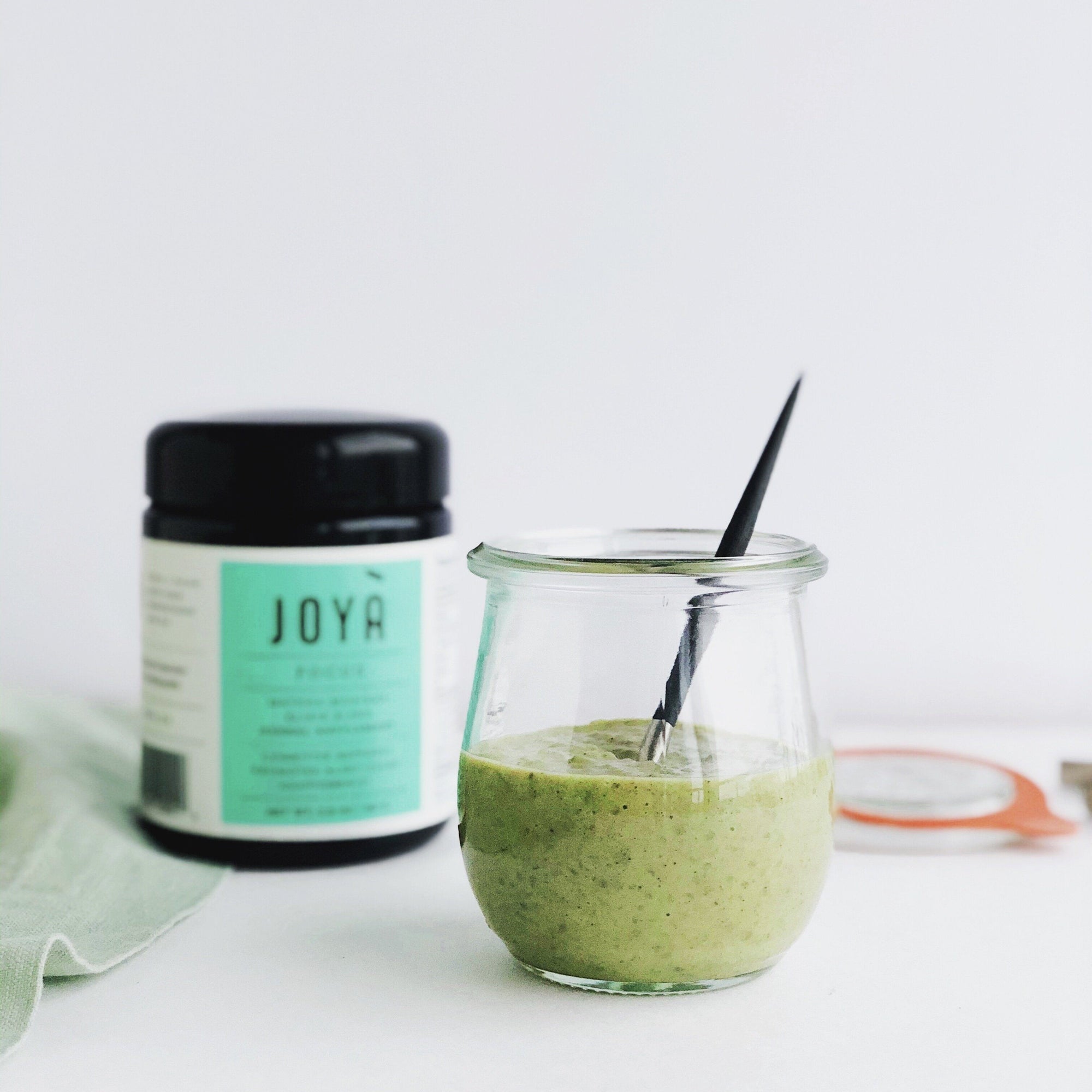 Our Focus Matcha Superblend makes for a nutritiously energizing addition to any morning. This blend is so much more than just the caffeine in the Matcha; it has the brain nourishing herbs and functional mushrooms you'll want to get going in the morning and keep you fuelled even longer. Here's a little breakdown of how all the key ingredients play a role in supporting you and brain health: 
How's that for a dose of brain loving, morning boosting goodness? Keep scrolling for easy ways to include our Focus Superblend in your morning routine:
1. Pancakes
These light and fluffy matcha blender pancakes can be served with fresh fruit, maple syrup, nut butter or whipped cream; anything goes. You can stack 'em high or top each one individually. Not only are they super delicious and nutritious, but visually impressive too. This matcha pancake recipe can be made in batches ahead of time, frozen and toasted on demand.
2. Chia Pudding
This easy and decadent breakfast choice is loaded with all the brain food. Superfood chia seeds are packed with benefits like fiber, plant-based protein, Omega 3 & 6 fatty acids. And when combined with Ashwagandha, Lion's Mane, Moringa and of course Matcha, you get our Brain-hugging Matcha-Moringa Chia Pudding which is one of our favorite go-to's in the AM!
3. Smoothies
A smoothie is a situation where anything goes. Grab a handful of greens, some nut milk, a couple of superfoods, and you have yourself a masterpiece. And when it comes to smoothies, the greener the better. Check out our Focus Matcha Superblend Smoothie Roundup for recipe inspo!
4. Granola
We have to admit, this particular granola recipe blew us away. Who knew that matcha and granola could create such delicious harmony? It's just another ingenious way to incorporate our Focus Superblend both as a tasty breakfast, and a delicious snack to always have on hand. Check out the delicious and nutritious fusion here: Matcha Granola
5. Rice Pudding
While we don't often think of rice as a breakfast item, rice pudding can definitely be. Like oats or chia, rice pudding is a perfect canvas for whatever toppings and fillings you wake up craving. White rice, which is prebiotic-rich helps feed both you and your helpful gut bacteria. Here is a guide to how we've JOYÀ-fied Rice Pudding!
6. Overnight Oats
Overnight oats are the kind of breakfast that you can prepare to matcha your mood. Dress them up or down. Warm them up or eat them cool. Go savory or sweet; the options are endless. Make them one day at a time, or for the week ahead. You really can't go wrong here, hence why we suggest mixing in a Superblend like Focus to get your day started right. Check out our guide on how to make overnight oats, JOYÀ style!