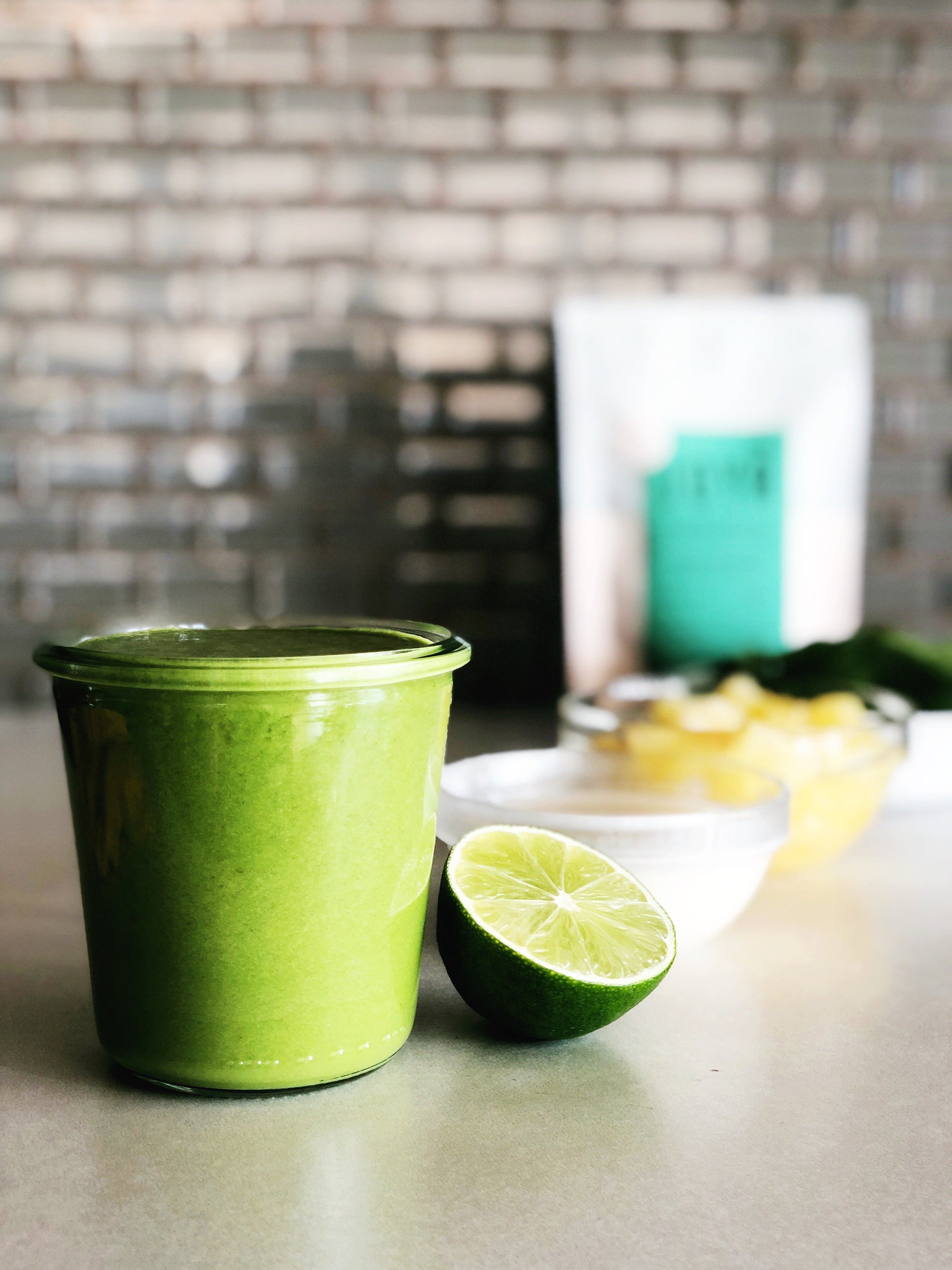 A smoothie is a situation where anything goes. Grab a handful of greens, some nut milk, maybe some fruit and a few superfoods, and you have yourself a masterpiece. When it comes to green smoothies, the one and only unconditional rule we live by is "the greener, the better"! That's why we absolutely love to always include Focus Matcha Superblend. 
Perfect in your morning or afternoon smoothie, Focus Superblend is so much more than your run of the mill Matcha. Packed with brain-nourishing, immune-supporting, hormone-balancing herbs and functional mushrooms like Moringa, Pine Pollen, Lion's Mane Mushroom and Ashwagandha, this has everything you need to power your day.
Keep scrolling for easy ways to include Focus Matcha Superblend in your pre-workout, post-workout or everyday smoothie:
1. Matcha Mint Loaded Greens Smoothie
Loaded with all things green (spinach, mint, cucumber and of course, matcha) and thickened with chia and banana, this light and flavorful Matcha Mint Loaded Greens smoothie is packed with nutrients, fiber and antioxidant power, and screams summer spa day thanks to fresh cucumber and mint.
2. Green Machine Smoothie
Packed with greens and balanced with just a hint of sweetness from mango and coconut water, the Green Machine smoothie will power you through just about anything. If you're looking for a cup loaded with nutrients, fiber and goodness, this smoothie is for you!
3. Matcha Mint Smoothie
Matcha and mint are a classic flavor pairing that never gets old! Some greens, some fruit, some mint and matcha make this Matcha Mint smoothie a classic recipe you'll be making time and time again. We love it as a smoothie bowl, and it goes perfectly with just about any toppings of your choice!
4. Candy Green Smoothie
The name of our Candy Green smoothie doesn't lie: it's packed with pineapple, green apple, lime and banana, all anchored with a generous dose of kale. After all, fruit is nature's candy.


5. Matcha Mint Chip Breakfast Smoothie
Our very own take on a classic mint chocolate chip milkshake with a twist. Matcha, chia seeds, oats, avocado, dates, banana and greens pack this Matcha Mint Chip Breakfast smoothie with good fats, fiber and natural sweetness to keep you happy and satiated.
6. Green Colada Smoothie
This is the smoothie for when you're in need of some sunshine, all while packing a nutrient punch. The Green Colada Smoothie also boasts tropical vacation vibes with notes of pineapple and coconut butter. You'll have visions of sandy beaches, sunshine and salty air with every sip.