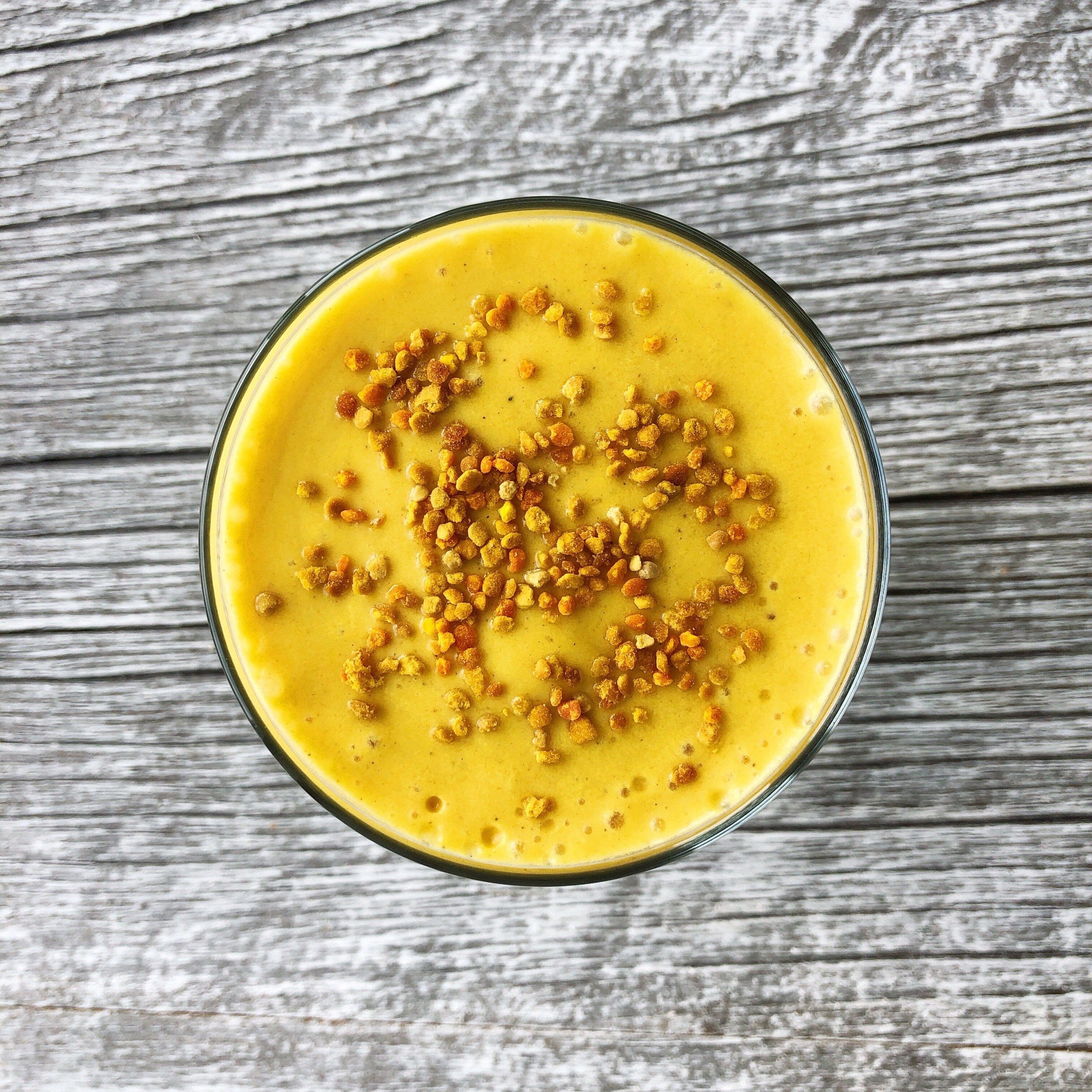 A smoothie is a magical thing. Not only is one perfect at any time of day, the combinations of ingredients are endless. We love adding our Restore Turmeric Superblend for extra immune and digestive support, along with extra anti-inflammatory and stress resisting goodness.
Featuring Turmeric, adaptogenic Ashwagandha, Astragalus + Pine Pollen, it's like adding a dose of sunshine to every cup. With notes of cinnamon, pepper and cardamom, this blend goes wonderfully well with tropical fruits. Keep scrolling for some of our favorite smoothie recipes featuring this sunny blend. 

1. Tropical Turmeric Golden Milk Smoothie
This Tropical Turmeric Golden Milk smoothie transports your taste buds to tropical paradise. With a superfood ingredient list straight from the tropics, the addition of our Turmeric blend results in some serious anti-inflammatory and antioxidant power, making this the perfect smoothie post-workout or whenever you're in need of a little getaway.
2. Tropical Carrot Smoothie
Loaded with all the golden fruit, veggies and herbs along with creamy, hydrating coconut, and a pinch of cayenne for that extra kick, this beach resort-inspired Tropical Carrot smoothie takes you on a Caribbean getaway with every sip.
3. Mango Turmeric Ginger Smoothie
Along with mango and ginger, this Mango Turmeric Ginger smoothie features everything from avocado, dates, celery, banana and chia seeds to make the most nutrient packed smoothie we've perhaps ever featured!
4. Lime in the Coconut Smoothie
This adaptogenic, piña colada-inspired Lime in the Coconut smoothie is packed with flavor and superfoods that are loaded with antioxidant power and help ease the body's stress response, support digestion and relieve inflammation. This smoothie also makes for a very very good popsicle :)

5. Peach Mango Lassi Smoothie
Considered an "ancient smoothie" Lassi is known as as one of the first yogurt smoothies in history. This Peach Mango Lassi smoothie is a JOYÀ-fied spin on the traditional Mango Lassi drink. We combined our Restore Turmeric Superblend with bursting mango and peach sweetness and the creaminess and tanginess of yogurt.

6. Goji Glow Smoothie
A little less traditional than our go-to flavor combos for Restore Superblend, this Goji Glow Smoothie packs the juiciest punch. Goji berries, papaya and oranges will make you really glow, glow, glow.

7. The Roots Smoothie
Packed with fiber, protein and healthy fats, naturally sweetened with dates, banana and mango, and invigorated with a kick of ginger, The Roots Smoothie is a high achiever and solid foundation to get all your goal getting started!