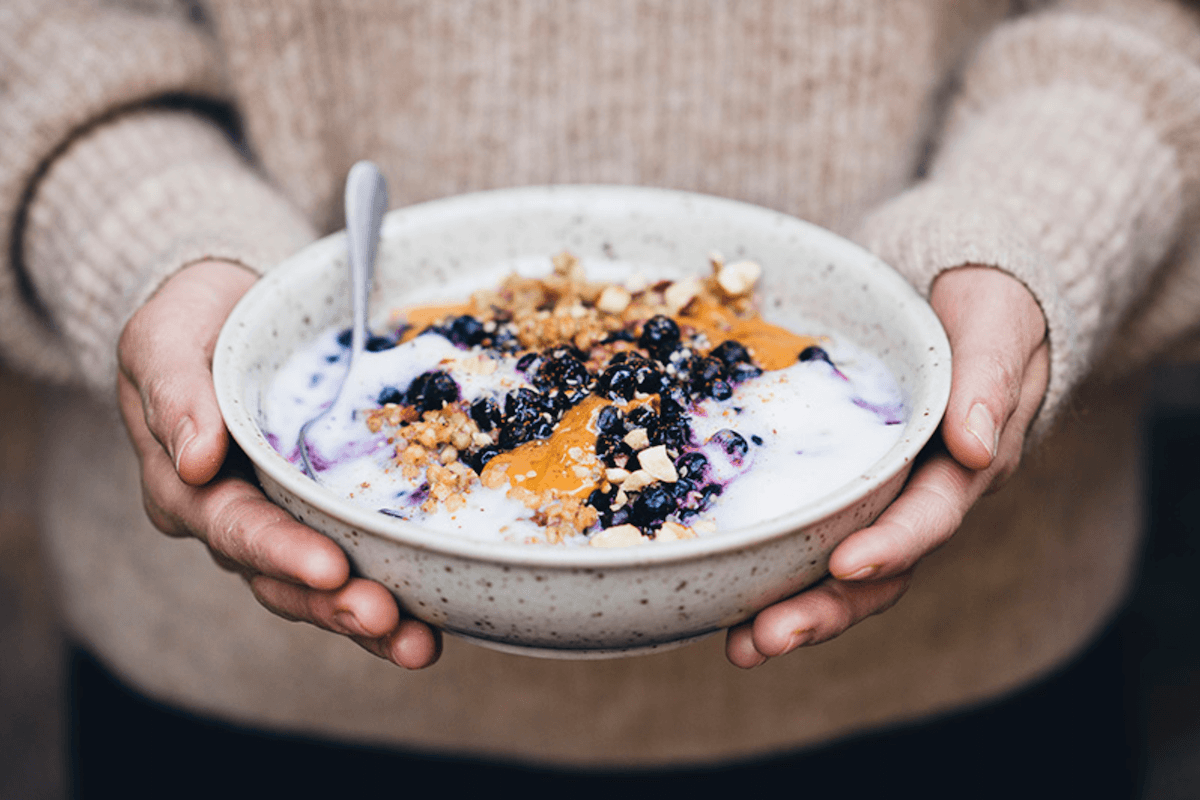 As the seasons change, so do our bodies' cravings and needs. Smoothies and berry bowls may have fed you in the summer months, but they might not be enough to hold your appetite as we transition from into blustery fall and through the winter. It's time to change things up in your morning routine because it's officially comfort food season. And what says comfort more than a hearty, steamy bowl of porridge.
Now, first things first: porridge is not to be confused with the bland mush Oliver Twist had to eat, or those tiny packs of instant oatmeal loaded with sugar. We're talking about only the most delicious and nutritious combinations that can be tailored to your every craving.
No boring bowls or glum grains here. We've developed the perfect (and most versatile) equation to build yourself the best breakfast. From traditional oatmeal to creative grain-free creations, we've got all the inspiration you need for nutrient-packed breakfasts to power you through winter (and make your Instagram followers drool).
Step 1. Build Your Base
Here's the thing: your bowl of decadent, nutritious comfort doesn't have to be made with oats. You can shake things up right from the get-go, starting with which grain (or non-grain) you decide to use.
Oats – Keep breakfast classy by using oats (regular or certified gluten-free if need be) as your starting point. To keep things exciting with texture and bite, play around with different types of oats, from quick-cooking or rolled, to Scottish and steel-cut, until you find your fave (just plan around your morning routine — you might want to save those longer cooking steel cut oats for a lazy weekend morning).
Oats are high in fiber and help to lower blood cholesterol levels. If mornings are a rush in your house, prepare your breakfast the night before and go for overnight oats. Just stir up everything except your toppings and leave the mixture in the fridge to soften overnight.
Pro Tip: prepare this breakfast in a mason jar with a lid so that you can take it with you on the go. Don't forget a spoon!

Gluten-Free – Take the gluten-free route with superfood grains like amaranth, millet and teff. All of these are great sources of minerals and fiber, and amaranth and teff also pack a protein punch to fuel your day.
Not just for dessert, rice pudding is another gluten-free alternative to oatmeal. It's also a smart way to use up last night's leftover rice!

Grain-Free – Nutritious seeds can replace grains to create a hearty breakfast. Go for buckwheat, chia (if you want something paleo-friendly) or quinoa, all superfoods high in protein and fiber, which also makes them breakfast stars for plant-based eaters.

Shredded Coconut – Here's another paleo option that was so exciting we thought it deserved its own shout-out. Shredded coconut can create a thick and creamy breakfast bowl without the use of oats or grains. Just blitz with some nuts and seeds and cook until thick and creamy for a powerhouse porridge that's as delicious as it is nutritious.

Whole Grains – Wheat berries, spelt berries and oat groats are wonderfully chewy, starchy whole grains, making them a great choice for those of you who are all about the mouthfeel. They're full of vitamins and minerals, as well as fiber and protein to keep you full for longer.
Don't feel like you have to settle for one, either. Incorporate multiple grains and/or seeds to build a seriously nutritious breakfast bowl.
Step 2. Make it Creamy
Step two is optional, and you can stick to just water when preparing your breakfast. However, we're of the mindset that there's nothing more comforting and heart-warming in the morning than stirring heavenly creaminess into your bowl.
Nut Butters – For a quick burst of flavor, mix any natural nut butter into your oatmeal. Your creamy n' dreamy breakfast just got a serious protein kick. 

Ghee – Ghee is clarified butter and is a healthy fat that'll keep you full until lunch. Add a spoonful to give your oatmeal a rich, nutty flavor.

Milk/Mylk – Adding a splash of milk or nut/seed "mylk" is a pretty foolproof way to stir in some creaminess. It's also handy if your oatmeal is a little too thick for your liking and you want to give it a thinner consistency. Pro tip: go for full fat coconut milk for ultimate creaminess.

Egg White – Okay, so an egg white isn't going to make your oatmeal creamy but it will influence the texture in another way. Stir in an egg white to make it nice and fluffy. It doesn't impact the flavor of the dish at all, but it does add a protein boost. (Save the egg yolk for sauces or baking!)
Step 3. Spice it Up & Top it Off, Sweet or Savory
This is where the real fun begins. No matter the grain or level of creaminess, you can dress your bowl almost anyway you like. Satisfy your sweet tooth (we all have one) or make it savoury (think of it as the new grain bowl). Porridge can wear it all.
SWEET
Make it Functional & Fabulous – Elevate your bowl with one of JOYÀ's Superblends stirred right into the steamy oatmeal for an adaptogenic boost of flavor. Cacao, vanilla-maca, turmeric or matcha - whatever your mood! This is an equally fabulous plan for overnight oats.

Go for the Drizzle – Add natural sweeteners to your bowl like raw honey, date syrup, or maple syrup. 

Bearing Fruit – There's nothing quite like adding local berries to your oatmeal, but when fresh fruit is out of season, dried fruit is a fantastic way to incorporate both flavor and texture to your bowl. Think beyond your typical bag of dried cranberries and experiment with dried fruits like dates, goji berries and ginger. Alternatively, toss in some frozen fruit. It'll thaw quickly and infuse your oatmeal with sweet juices.

Add Some Crunch – Throw in some nuts and seeds to create a hearty bowl. You can stick with the classics like chopped almonds, walnuts and pecans, or jazz it up with hemp hearts, chia seeds, pistachios and macadamias. And although technically not a nut or seed, we love to top our oatmeal with toasted coconut for a satisfying crunch.

Chocolate Addict – Chocolate for breakfast? You know it! To make oatmeal as tasty as it is nutritious, stir in JOYÀ Calm Functional Superblend or cacao nibs for a breakfast high in antioxidants and magnesium.
Pro Tip: grate some JOYÀ chocolate on top for a nutritiously decadent treat!

Go Bananas – Top your oatmeal off with caramelized bananas. Although it sounds decadent, it only takes a couple of minutes in a frying pan to transform banana slices into sweet lil nuggets of gold. Sounds like your breakfast just hit the jackpot. 
SAVOURY
Scottish Porridge – Do as the Scots do! Add a pinch of sea salt to create a traditional Scottish oatmeal.

Umami Everything – It turns out that oatmeal loves the rich and savory flavor of umami as much as you do. Create mouthwatering oatmeal (or oat-free porridge) by stirring in miso, tamari or soy sauce.

Soft Boiled Egg – Immediately step up any breakfast's (or dinner's) game by topping it with a soft boiled egg. Are you someone who would rather prep their meals? Well, good news! Soft boiled eggs can be made in advance (up to 3 days ahead!) together with the base for your savory overnight oats.

Greens for Breakfast – Who says you can't have vegetables for breakfast? Adding braised greens like kale, spinach or mushrooms adds wonderful flavor and texture to an already craveable bowl.

Bone Broth – Cook your oatmeal in a pot of bone broth for an unbelievable breakfast. You'll reap all the benefits of bone broth while infusing your grains or pseudo-grains with a delicious savory flavor.
Feeling Inspired?
These colder months may seem to drag on and on, but comfort food season doesn't last forever. Time to get cooking! Get creative and build yourself the best breakfast bowl. While you're at it, check out some of our favorite recipes like this healthy bowl of tahini-cocoa overnight oats, turmeric spice oatmeal, and carrot cake overnight oats.