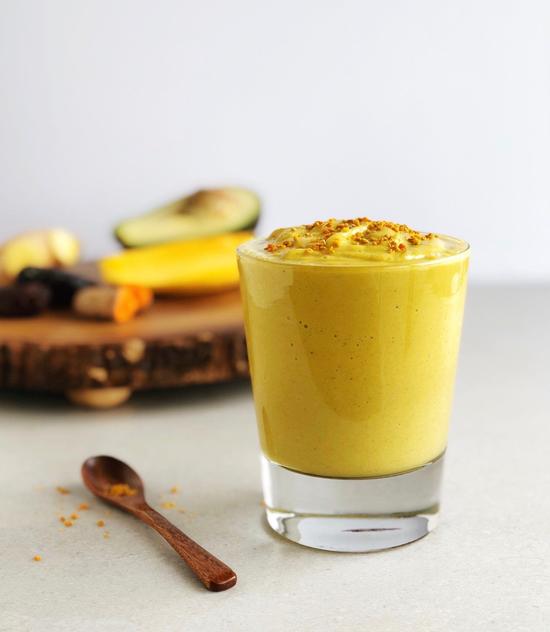 Some would describe our Restore Turmeric Superblend as a dose of sunshine. What better way is there to start the day than with a bright warm glow before you've stepped out the door?
Packed with nourishing and adaptogenic herbs and spices, this Restore Turmeric Superblend is as flavorful as it is beneficial to your body. Turmeric, Ashwagandha, Astragalus and Pine Pollen are some of the most revered botanicals in traditional medicine, packing this blend full of antioxidants and stress-supporting goodness. Glow is a perfect addition to any morning routine - even coffee (think pumpkin spice-esque vibes) - to help tackle what the day has in store.
Keep scrolling for ideas on how to incorporate this sunshine yellow shining Superblend into your morning routine. 
1. Overnight Oats
A serious staple to our breakfast lineup is the fast and easy breakfast option — overnight oats! We like to switch up our toppings based on what we're craving the morning of, and the base mixed with our Restore Turmeric Superblend can be made in a single serving or a week's worth at a time. This guide offers a step by step to making the overnight oats of your dreams to enjoy in the morning.
2. Smoothies
Smoothies are magical in that you can mix a bunch of your favorite ingredients and create something truly nutritious and delicious. They're an amazing way to pack in your nutrients, all in one cup. We love our Turmeric smoothies with a taste and flair of the tropics. Combine, blend, pour and sip. Does it feel like you're somewhere tropical with these flavors? See our Turmeric Blend Smoothie Roundup for recipe inspo!

3. Rice Pudding
While we don't often think of having rice in the morning, many cultures and traditional cuisines do. And trust - rice pudding makes for a delicious breakfast option. Like oats or chia, rice pudding is a perfect blank canvas for whatever toppings and fillings you wake up craving. White rice, which is prebiotic-rich, helps feed both you and your helpful gut bacteria. Here is a guide to how we've JOYÀ-fied Rice Pudding!
4. Chia Pudding
Another staple option in our lineup of nutritious and delicious breakfast go-to's is chia pudding. A versatile and easy-to-whip-up breakfast (or snack!) that's packed with fiber, plant-based protein, Omega 3 & 6 fatty acids and a number of minerals, in addition to the all the benefits of our Restore Turmeric Superblend. Similar to overnight oats and rice pudding, chia pudding can be prepared ahead of time: the night before or for the week ahead. Check out our easy 4 ingredient, step-by-step recipe guide to chia pudding.

5. Banana Bread
With ginger, cinnamon, vanilla and cardamom in the mix, this Superblend combo makes for a great addition to any baked good. One of our favorite freshly baked delights is this Golden Grain-Free Banana Bread which happens to be easy to whip up, is packed full of nutritious ingredients and loaded with flavor. It's also packed with healthy fats, fiber and protein which will keep you happy and full for longer.