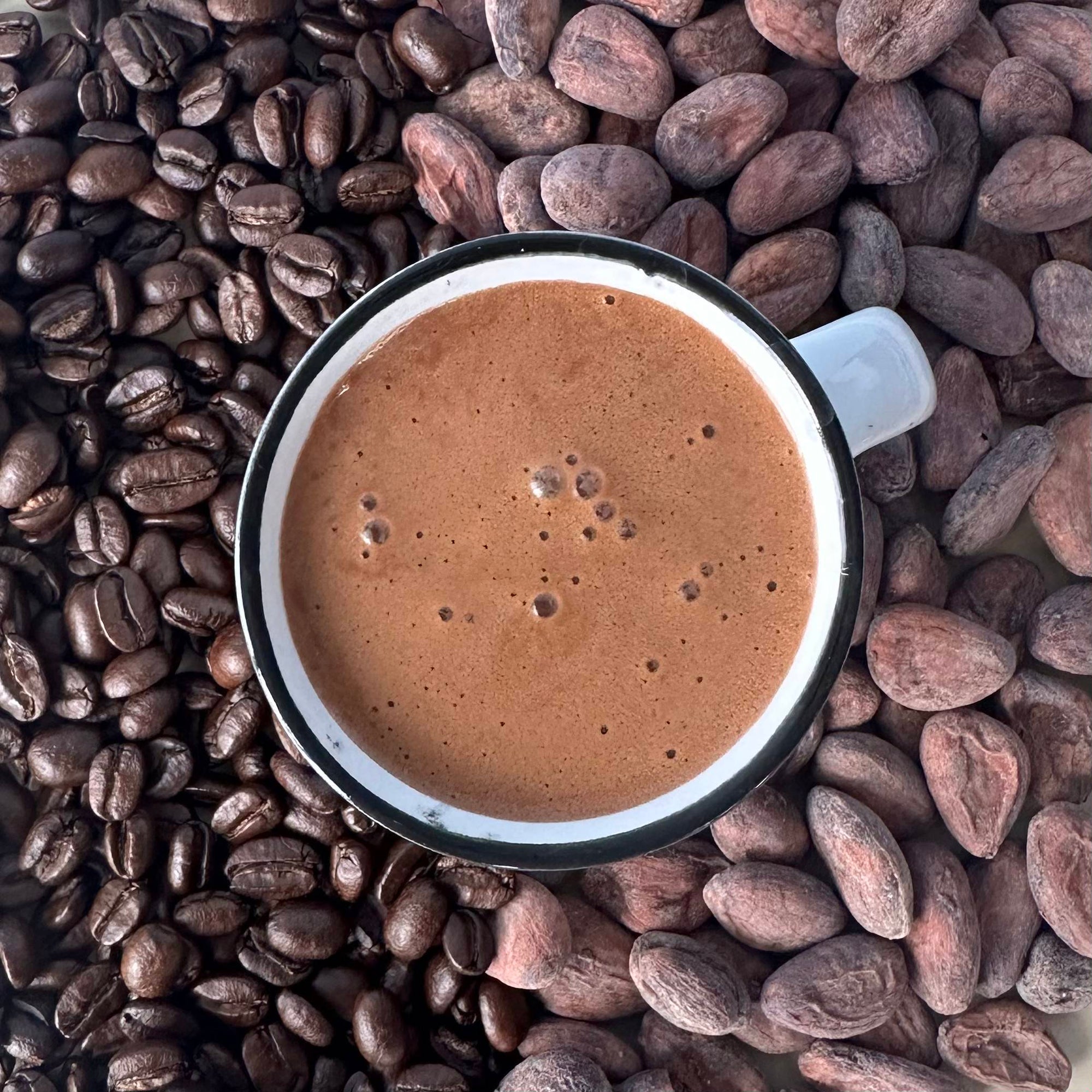 Classic Mocha Recipe 
We have to start this list with a classic mocha à la JOYÀ. The warming herbs and spices found in Calm Superblend perfectly enhance the cacao and coffee combination and the recipe couldn't be easier. 
Your everyday cup of coffee (drip, espresso, decaf, etc...)
1 scoop of Calm Cacao Superblend
optional: milk of choice
optional: sweetener of choice 
Blend and enjoy! 
Adaptogenic Bliss Mocha
This is what we like to call an upgraded mocha. We have the traditional coffee + Calm Superblend base, plus the additional creaminess of MCT oil and homemade cashew milk. This Adaptogenic Bliss Mocha is perfection for fuelling the day ahead. 
Mocha Protein Shake 
Hydration, adaptogens, caffeine and protein in one delicious mocha recipe. Perfect in the morning, afternoon or after a workout, this Mocha Protein Shake is all-in-one mocha perfection. 
Mocha Smoothie 
This mocha smoothie is creamy and chocolatey, packed with nutrients from coconut butter, cashews, flax seeds and oats to keep you satiated, happy and ready for the day ahead. 
Iced Lavender Mocha
This iced lavender mocha takes you on an adventure to the south of France with fields of purple lavender leaving you feeling calm, supported and relaxed. 
Mocha Chia Pudding 
While a mocha is "traditionally" a beverage, we knew the Choc-Coffee-Combo would work perfectly in food form. This mocha chia pudding is filling, nutritious and super delicious, and great as a make-ahead breakfast or snack. 
Special Mention: Focus Functional Chocolate! 
We couldn't do a mocha roundup without mentioning this beauty. Our Focus Functional Chocolate boasts 60% cacao, with coffee and cognition supporting ginkgo biloba and adaptogenic rhodiola. This fan favorite bar is packed with 100% organic ingredients, antioxidants, and pure mocha magic.