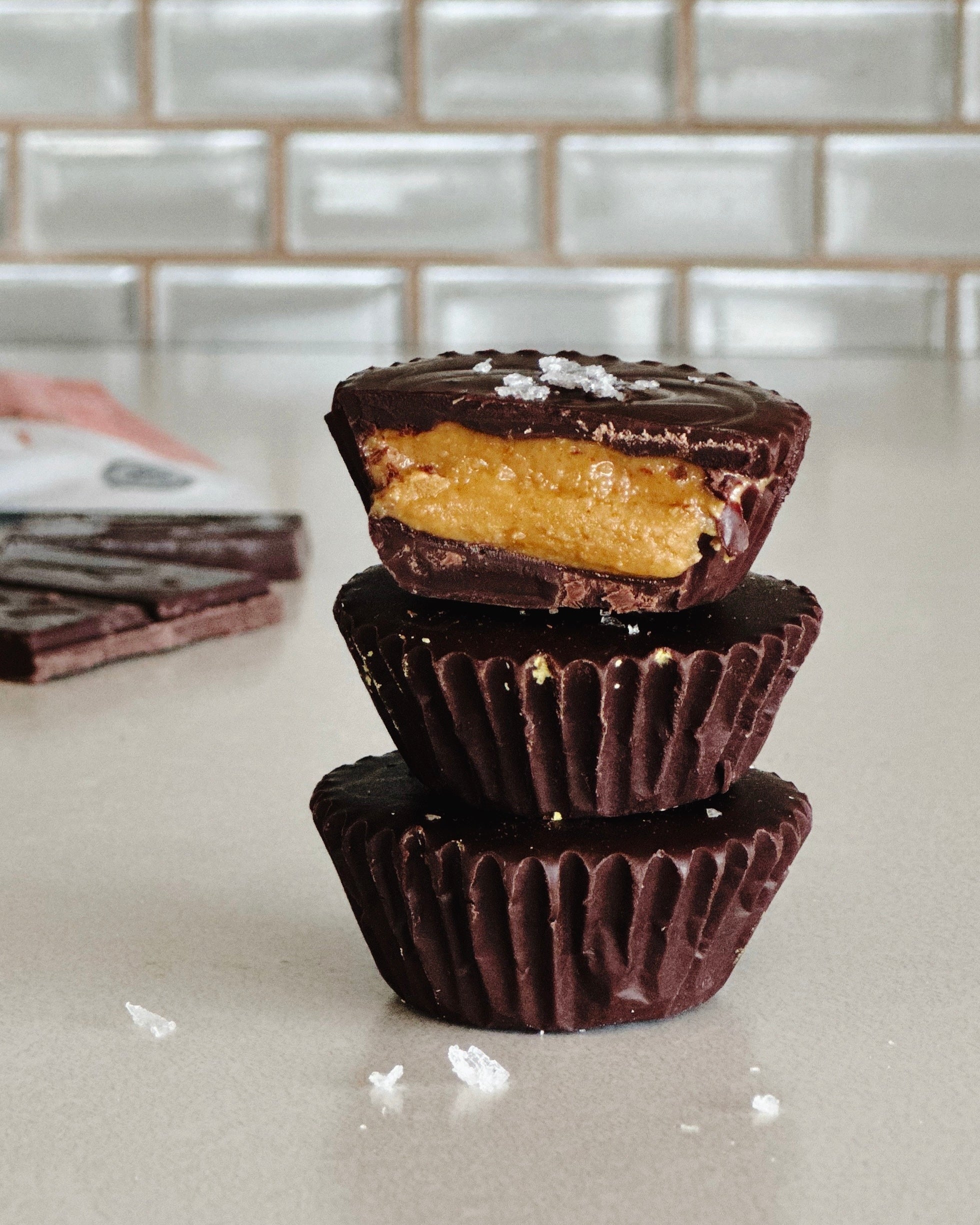 How to make Adaptogenic Healthy Peanut Butter Cups
Line a mini muffin pan with 12 mini liners. 
Melt the chocolate over a double boiler, stirring continuously as it begins to melt. Alternatively, melt in the microwave in a microwave-safe bowl, stirring every 10 seconds. 
Spoon 1 teaspoon of melted chocolate into each muffin liner. Use the spoon to spread the chocolate part way up the sides of each liner. Holding the tray level, tap the tray lightly on a table or counter to help spread the chocolate evenly and get rid of any air bubbles.
Place the muffin tray in the freezer for 5-10 minutes, until the chocolate is firm.
Meanwhile, mix the peanut butter, salt (if using), maple syrup or honey, coconut flour and JOYÀ Defend Superblend (or maca) in a bowl. Let mixture sit for 3 minutes to let the coconut flour absorb moisture. If the mixture is still runny, add more coconut flour, ¼ teaspoon at a time, to firm the mixture slightly (it should be soft but thick).
Remove the muffin tin from the freezer. Spoon 1 rounded teaspoon of the peanut butter mixture into the center of each chocolate shell. Tap the tray on a table or counter to help flatten the mixture.
If the melted chocolate has firmed up, re-heat it until it is once again a pourable consistency. Pour 1 ½ teaspoons of melted chocolate onto each muffin cup over the peanut butter mixture and gently shake and tap the tray to smooth out the tops and help the chocolate settle. 
Place the tray in the freezer until the chocolate hardens, about 15 minutes. If sprinkling the tops of the peanut butter cups with flaked sea salt, remove the tray from the freezer after 2 minutes and sprinkle each cup with a small pinch of the salt. (Tip: If you sprinkle the salt on top while the chocolate is still warm, the salt will melt and sink.) Return the tray to the freezer until the chocolate hardens, about 13 minutes. 
Let the peanut butter cups come to room temperature before enjoying. 
How to store Adaptogenic Healthy Peanut Butter Cups
Store in an airtight container in the fridge for up to 7 days or in the freezer for up to 1 month (if they last that long!).