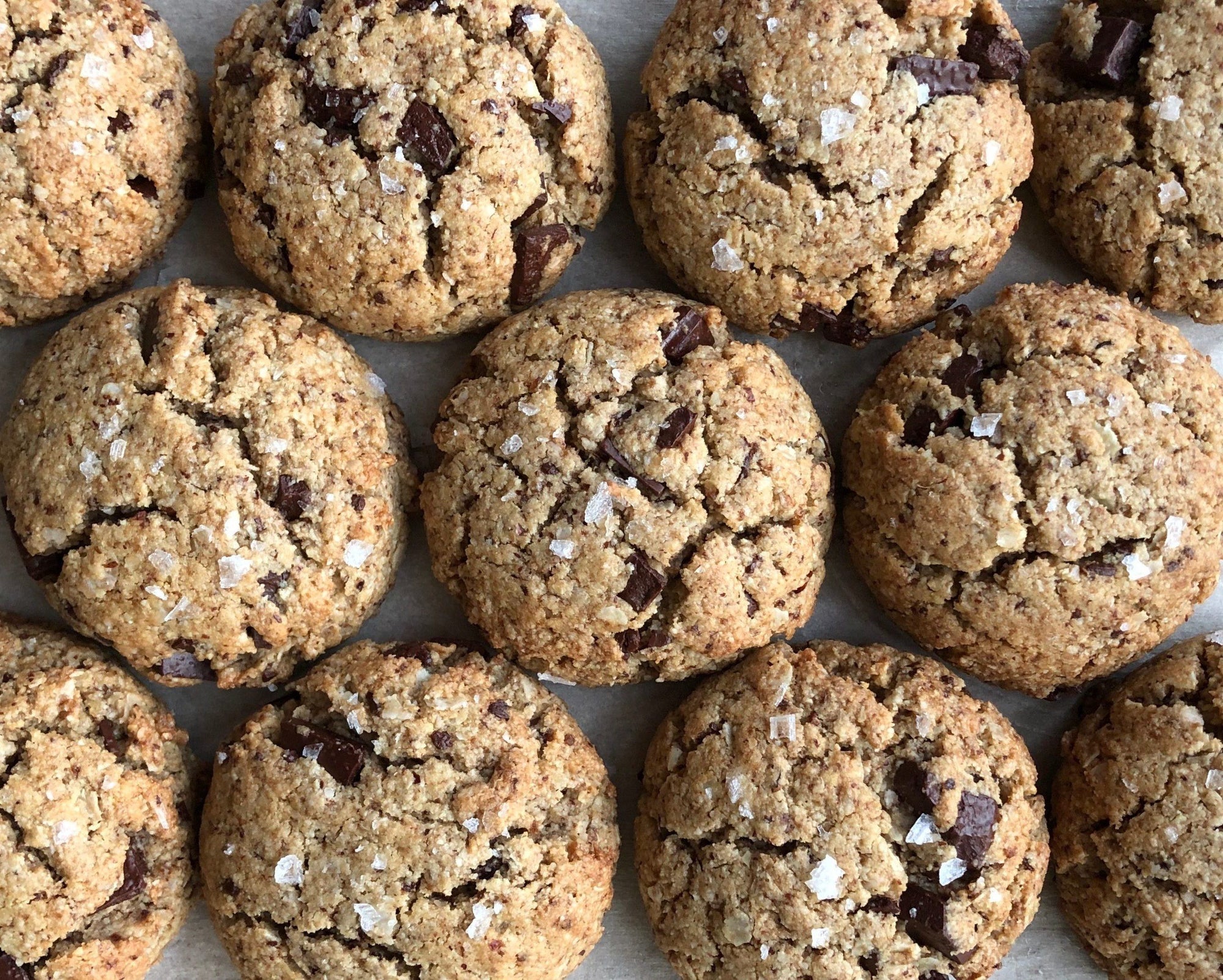 Instructions:
Line a large baking sheet with parchment paper. Preheat the oven to 350F/180C with the rack set in the middle.
If using a flax egg: in a small bowl, whisk together 1 tablespoon ground flax with 3 tablespoons water and set aside to gel.
In a medium bowl, add the nut flours, buckwheat and/or quinoa flakes, salt and baking soda and whisk to combine. 
In a large bowl, add the coconut oil, ghee, tahini, coconut sugar, egg (or flax egg), vanilla and espresso powder or cinnamon and beat on low with a handheld electric beater or whisk until combined. Add the dry mixture to the wet mixture and stir with a wooden spoon (or other stiff spoon) just until combined and no dry spots remain. Stir in the chocolate chunks.
Scoop the dough onto the prepared baking sheet using a large 3 tablespoon cookie scoop, leaving 2 inches in between cookies. Flatten slightly with the palm of your hand and sprinkle with a bit of flaked sea salt. (*If using a medium (1.5 tablespoon) cookie scoop, baking time will be shorter – be sure to keep an eye on them in the oven!)
Bake for 10 minutes, until edges of the cookies are golden brown. Let cookies sit for 2 minutes on the pan and then transfer to a cooling rack to cool completely.
Store cookies in an airtight container at room temperature. Best if eaten within 2 days.
Do ahead: Cookie dough can be frozen and baked when you need to satisfy a cookie craving STAT or unexpected guests pop by! To freeze, portion dough using your cookie scoop, place on a large plate or tray and freeze for 1 hour (this prevents the cookies from sticking to each other). Transfer frozen cookie dough mounds to an airtight, freezer safe container or bag and keep frozen until ready to use. Be sure to label the container with the date, type of cookies, baking temperature and baking time. To bake, either let the cookie dough thaw in the fridge overnight or at room temperature for 2 hours and bake as per the original instructions, or bake frozen dough for 12 minutes (*frozen dough will not spread as much as thawed dough). Cookie dough can be stored frozen for up to 5 weeks for optimal quality.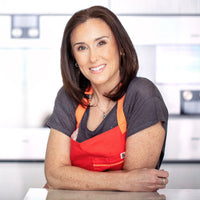 by Ruth Elnekave, CNP
Ruth Elnekave is a Toronto-based chef, holistic nutritionist, culinary instructor, recovering corporate lawyer and founder of JOYÀ. Her projects are fuelled by one main goal: to spread the pure joy and wellbeing experienced when sharing and savouring delicious, real food.