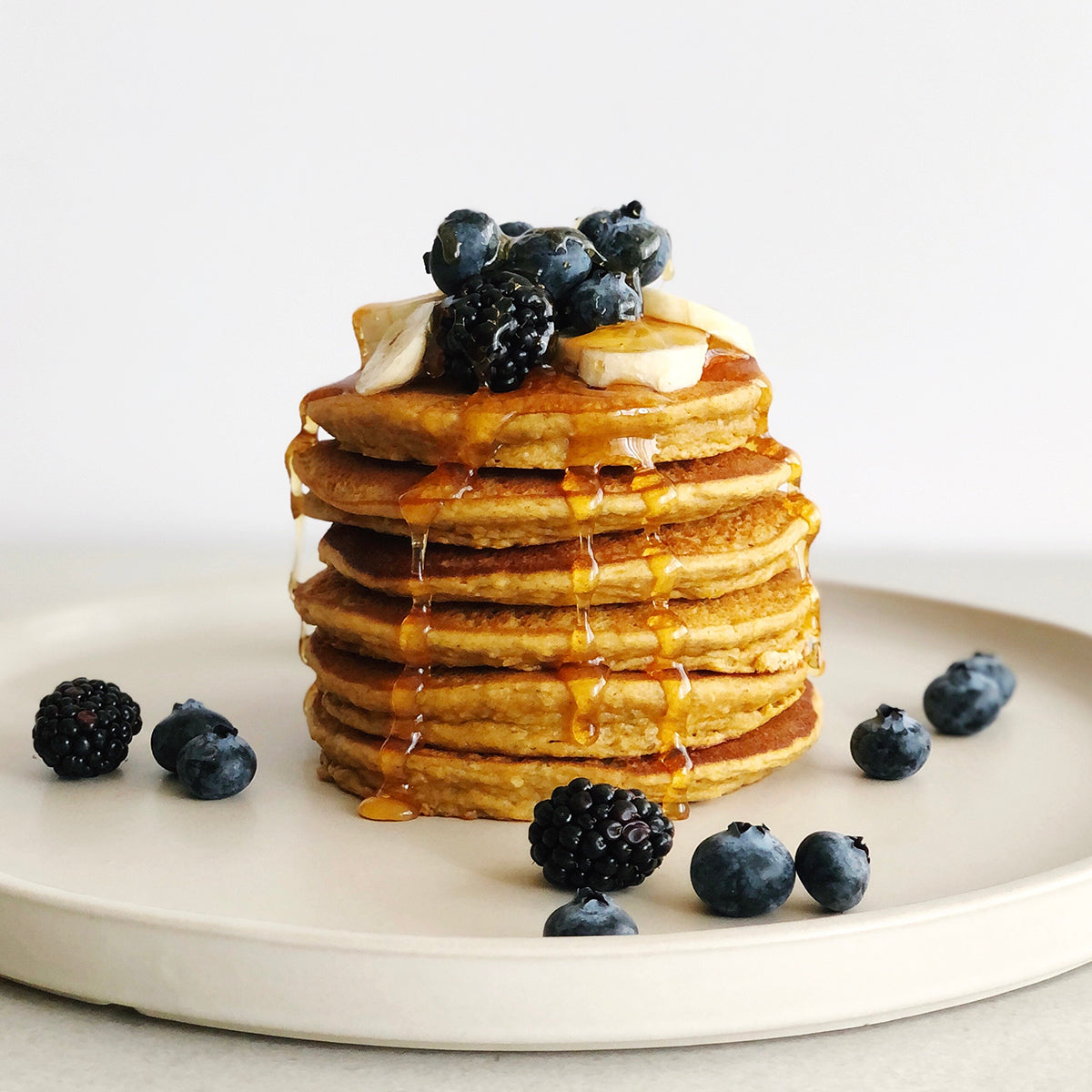 Instructions
1. In a medium bowl, whisk together the eggs, vanilla, salt and banana.
2. Add the almond and coconut flours, cinnamon, baking powder and Superblend and whisk until combined.
3. Add 6 tbsp milk and coconut oil (or ghee) and whisk. Wait 5 minutes to let the flour absorb the liquid, and then add more milk if necessary. Thinner, runnier batter will yield thinner pancakes, and thicker batter will yield thicker pancakes.
4. Heat a large skillet or griddle over medium heat. Brush with coconut oil/ghee. When the pan and oil are hot, dollop a heaping ¼ cup of the batter into the pan, spreading it evenly into a 4-inch round; you should be able to get 2 to 3 pancakes into the pan, depending on the size of your pan. 
5. Cook until the pancakes puff and the undersides are golden, about 2 minutes. Using a spatula, flip the pancakes and continue to cook until they are golden brown and cooked through, about 2 minutes longer. Adjust the heat as needed.
6. Serve warm with your butter of choice, maple syrup, and melted chocolate if desired. To keep the pancakes warm, transfer to a baking sheet and place in a 200°F oven. (The pancakes can be cooled to room temperature, then frozen in a single layer on a baking sheet; pack them in an airtight container separated by parchment paper. To serve, bring to room temperature and reheat in a pan over low heat.)
7. Top with toppings of choice and enjoy!