Espresso Dark Chocolate Mousse with Coconut Whipped Cream
By Ruth Elnekave, CNP, and Sophie Bourdon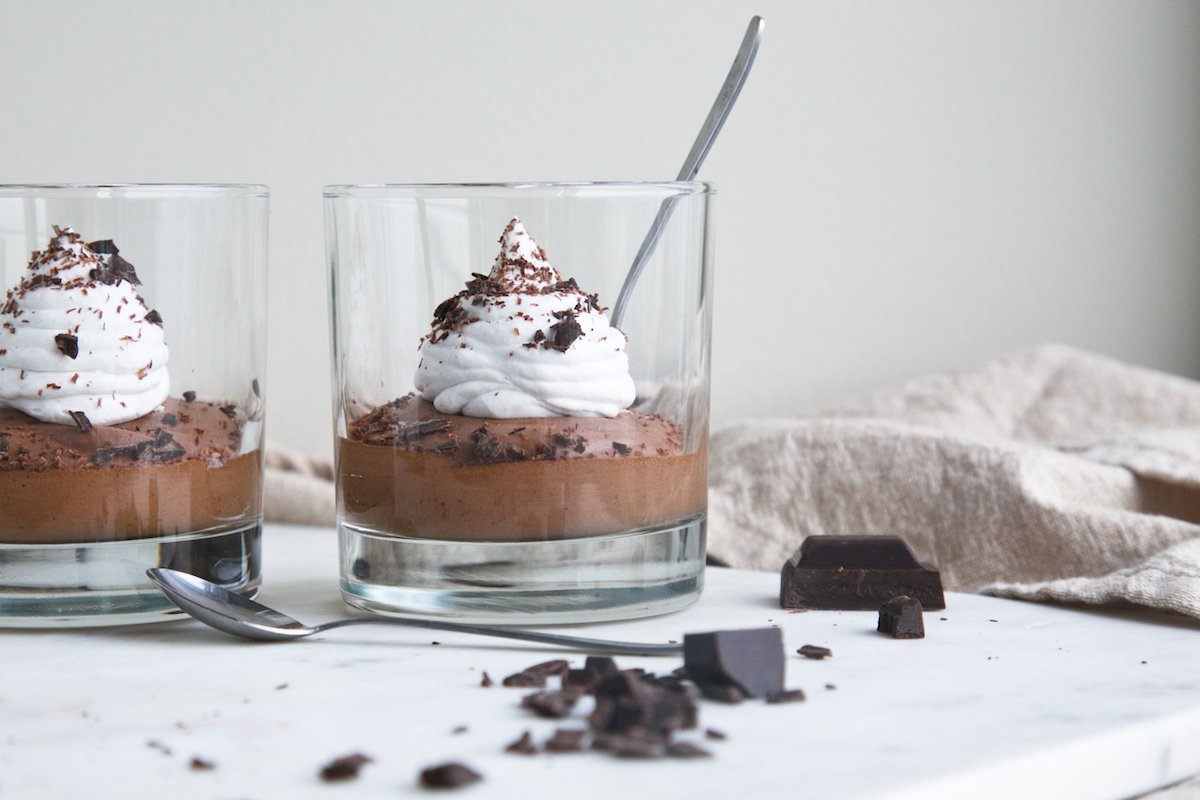 Instructions
Mousse
Melt dark chocolate over a double boiler (or a stainless steel bowl placed over a pot of simmering water), stirring continuously. Add sugar, espresso powder and vanilla and stir to combine. Once smooth and runny, remove from heat.
Add aquafaba to a large mixing bowl or bowl of a stand mixer. Beat on high speed until firm and glossy. This will take 5-15 minutes depending on the aquafaba and mixer. The fluff should stay in place when you flip the bowl upside down.
Pour the slightly cooled melted chocolate into the fluff and continue to whip with the mixer to combine. It may appear as if the meringue deflates slightly but not to worry — the mousse will set into a wonderful consistency! If the melted chocolate is no longer readily pourable, rewarm very briefly just until pourable.
Spoon mousse evenly into 6 glasses and chill in the fridge for at least 2 hours. 
Whipped Cream
Chill can of coconut milk in the fridge overnight, or longer (at least 8 hours). Do not shake the can.
Just before you are ready to make your whipped cream, chill a large and deep mixing bowl in the fridge or freezer for 5-10 minutes.
Remove the can from the fridge and without shaking, remove the lid. Scoop only the thick cream from the top of the can into the chilled bowl (making sure not to scoop out any of the liquid) and pour the remaining liquid into a container or jar (this can be used for smoothies, baking or cooking).
Beat cream with a hand or stand mixer until creamy and fluffy, about 2-3 minutes. If using vanilla and/or sweetener, add and continue to beat for another 30 seconds. Taste and adjust vanilla and sweetener as desired.
Serving
Garnish mousse with whipped cream and shaved dark chocolate, raw cacao nibs or berries and enjoy!
Notes: The whipped cream will last well for about a week in a sealed container in the refrigerator. As it will firm up slightly, simply transfer to a bowl and re-whip prior to using. This vegan whipped cream can be used like dairy whipped cream — it's a delicious topping for ice cream, hot chocolate, mousse, fruit crumble or pie, cake, pancakes or waffles or even to take a bowl of berries to the next level!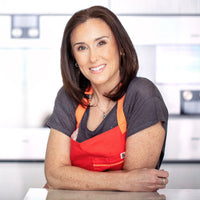 by Ruth Elnekave, CNP
Ruth Elnekave is a Toronto-based chef, holistic nutritionist, culinary instructor, recovering corporate lawyer and founder of JOYÀ. Her projects are fuelled by one main goal: to spread the pure joy and wellbeing experienced when sharing and savouring delicious, real food.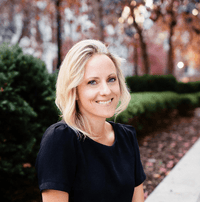 by Sophie Bourdon
Sophie Bourdon is a health and wellness entrepreneur based in Montreal, Canada. She is the holistic nutritionist and founder behind The Green Life, an online journal, shop and natural skincare and self-care line. Sophie believes in a holistic approach to wellness that uses the power of plants to promote nourishment and vibrancy on every level - skin, body and soul.