Instructions
Preheat oven to 350°F (180°C). Lightly brush an 8" x 8" baking pan with coconut oil and line the pan with 2 strips of parchment paper, one in each direction, leaving an overhang on all sides. Set aside.
Add all ingredients (except for the chopped chocolate, if using) to a high-speed blender jar (or bowl of a food processor) and blend until batter is well combined and smooth. 
Pour batter into the prepared baking pan, tilting the pan in all directions to distribute and ensure that it spreads to all corners. If using chopped chocolate, sprinkle it evenly over the top of the batter and then using a spoon, swirl it into the batter so that some of the chunks sink in.
Bake for 20 minutes, until a knife or toothpick inserted into the center comes out with moist crumbs attached, but not with runny batter. Do not over-bake as the brownies will continue to set while cooling in the pan.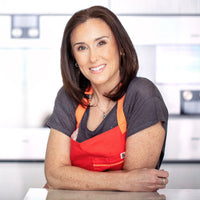 by Ruth Elnekave, CNP
Ruth Elnekave is a Toronto-based chef, holistic nutritionist, culinary instructor, recovering corporate lawyer and founder of JOYÀ. Her projects are fuelled by one main goal: to spread the pure joy and wellbeing experienced when sharing and savouring delicious, real food.