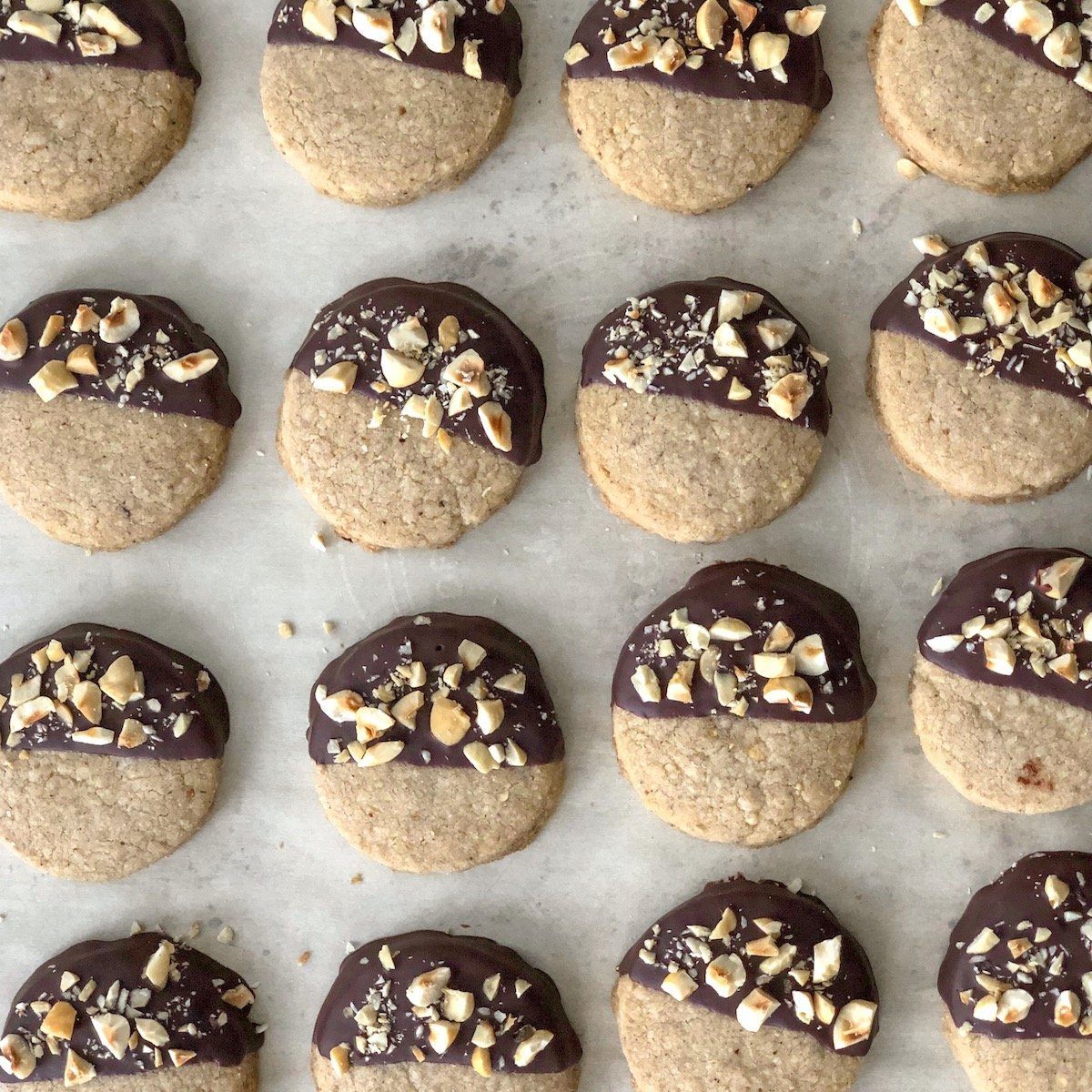 Instructions
Center a rack in the oven and preheat the oven to 350°F (175°C). Line one large or two smaller baking sheets with parchment.
Place hazelnuts on a baking sheet and toast for 12 minutes. Wrap toasted nuts in a clean kitchen towel to steam for 2 minutes. Rub towel-wrapped hazelnuts together to remove the skins. Transfer hazelnuts to a large plate and set aside to cool. It's ok if not all the skins are removed.
To the bowl of a food processor, add flour blend, psyllium powder and ½ cup (55 g) of the cooled toasted hazelnuts. Process until hazelnuts are ground into a fine powder. 
In large bowl, using a handheld electric mixer or stand mixer, cream together oil, ghee (if using), powdered sugar and maple syrup until very creamy and fluffy, 2 minutes. Add salt and extracts and blend until smooth and uniform.
Add the flour and hazelnut mixture to the wet mixture and blend on low speed until combined and no dry spots remain, scraping down the sides of the bowl as needed. The dough should hold together well and have some moistness when squeezed in your palm. If dough is still crumbly, add a tiny bit of water (½ teaspoon at a time), blend dough again and squeeze to test. Repeat until dough just holds together — you do not want to over-hydrate.
Cut two sheets of parchment paper the size of a baking sheet. Place one sheet down on a working surface, transfer the dough to the sheet, and pat into a disk. Cover the dough with the other sheet of parchment and roll out to a circle about ⅓" thick. Using a cookie cutter (shape and size of your choice), cut dough into cookies, lift cookies using an offset spatula or knife and place 2" apart on parchment-lined baking sheets and freeze for 10 minutes. Repeat rolling and cutting steps with remaining dough. (If your baking sheets don't fit in the freezer, use parchment-lined plates and transfer frozen cookies to a baking sheet for baking.)
If the cookies don't all fit on one large baking sheet (spaced 2" apart), bake in several batches, as needed. Bake cookies until bottoms are golden brown and the top edges just begin to turn golden, about 11-12 minutes. Let cookies cool for 5 minutes on the baking sheet and then transfer to a cooling rack to cool completely.
While the cookies are cooling, prepare the toppings. Transfer remaining hazelnuts to a cutting board and finely chop.
Combine the chocolate and coconut oil in a small microwave-safe bowl and microwave in 20-second increments, stirring in between, until fully melted. Alternatively, you can use a double boiler.
Dip cookies halfway into the melted chocolate (or drizzle only the tops of the cookies using a spoon) and set on a parchment-lined baking sheet to set, sprinkling immediately with chopped hazelnuts and if desired, flaked sea salt.
Do-ahead: Frozen cookies can be stored in an airtight container and frozen for up to one month. Do not defrost the cookies before baking — they just might need an extra minutes or so in the oven.
Storage: Cookies can be stored at room temperature in an airtight container for 4-5 days.