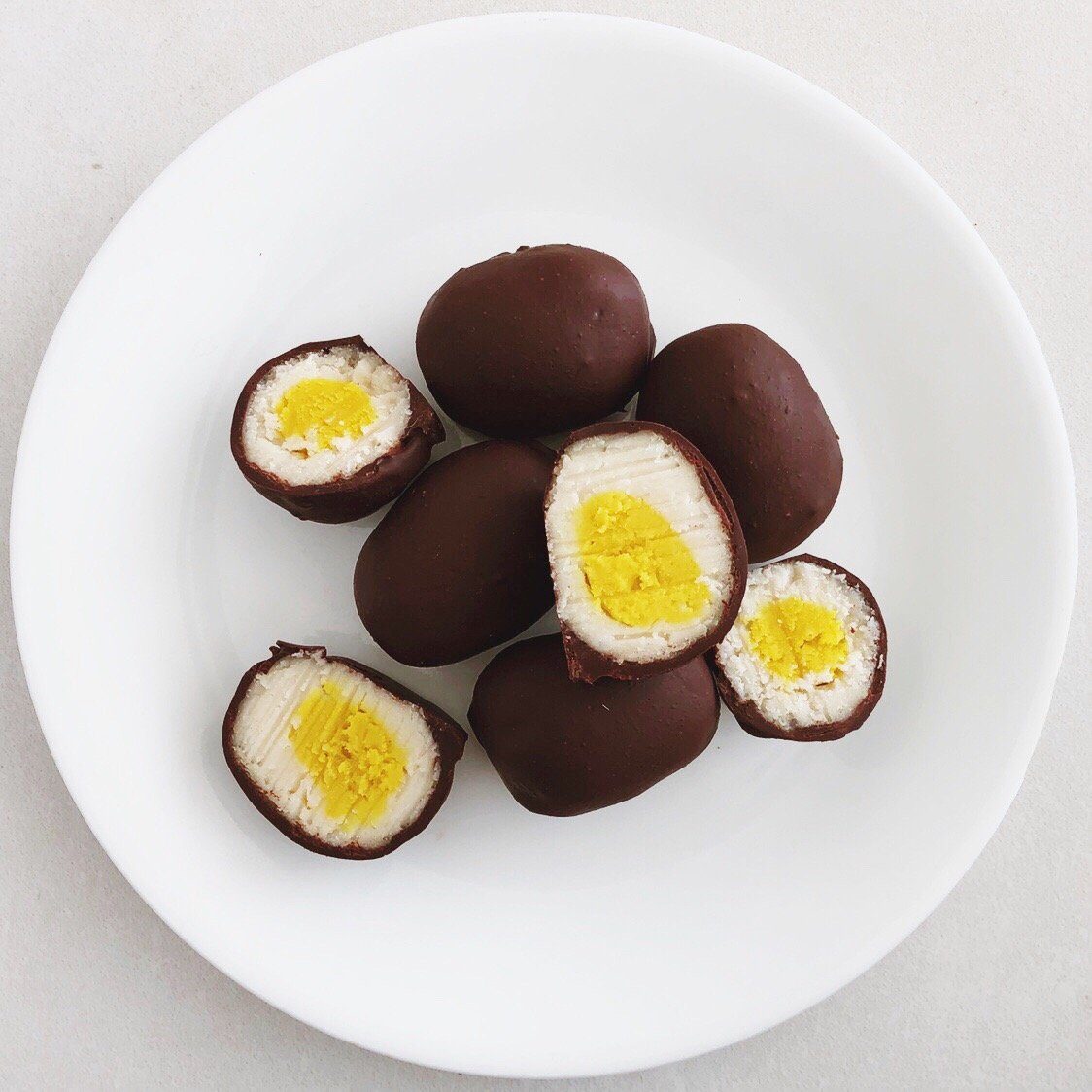 Instructions
Prepare the cashew cream
In a bowl, combine cashews and 2 cups of room temperature water and soak for 2-4 hours. Drain and rinse well.
In a blender jar, combine drained cashews, ¼ cup water and a tiny pinch of sea salt. Blend until very smooth and creamy, stopping to scrape down the sides of the jar as needed. Set aside.
Prepare the eggs
Measure the coconut butter into a small microwavable bowl and heat just until softened, about 10 seconds.
In a small bowl, combine 1 tablespoon of the coconut butter, 1 tablespoon of the cashew cream and Restore Turmeric Superblend (or turmeric) and stir to combine. Add honey to taste (we used about ½ teaspoon). Transfer to the fridge to firm up slightly, 5 minutes.
In a medium bowl, combine the shredded coconut, remaining coconut butter and ¼ cup (68 g) cashew cream and stir to combine. Add honey to taste (we used about 1 teaspoon). Transfer to the fridge to firm up slightly, 10 minutes.
While the white mixture is chilling, divide the yellow "yolk" mixture into 6 x 1 teaspoon portions. Very lightly roll into balls and set back in the fridge.
Divide white mixture into 6 x 1.5 tablespoon portions. Roll each portion into a ball and flatten it in your palm into a circle (not too thin, about 5 mm).
Place a yellow "yolk" ball in the middle of each circle, wrap the yellow ball with the circle and lightly roll it into a ball again, forming each ball into an oval egg-like shape if desired. Transfer to the fridge while you prepare the chocolate.
Melt the chocolate over a double boiler (alternatively, you can place the chocolate in a microwave-safe bowl and microwave in 15-second increments, stirring in between until fully melted and smooth).
Line a small tray or flat plate with parchment paper. Using a fork or two spoons, dip each egg into the melted chocolate to coat, allow excess chocolate to drip off and transfer to the prepared tray. Transfer tray to the fridge to set for 10 minutes. If you have any leftover chocolate, you can add a drizzle on top of the shells to create a pattern. Otherwise leftover chocolate can be stored covered at room temperature for one month.
Keep eggs stored in an airtight container in the fridge for up to 5 days — if they last that long!