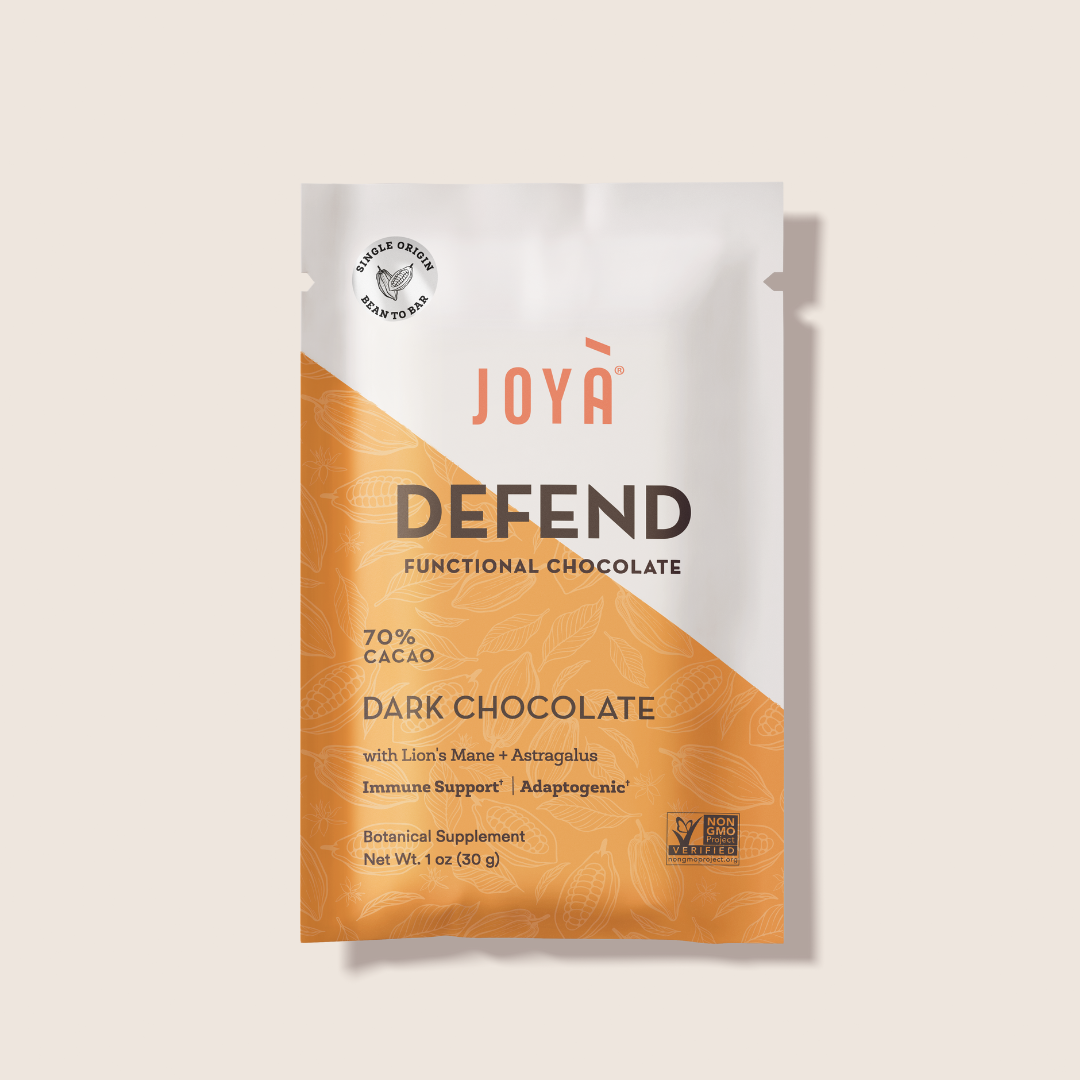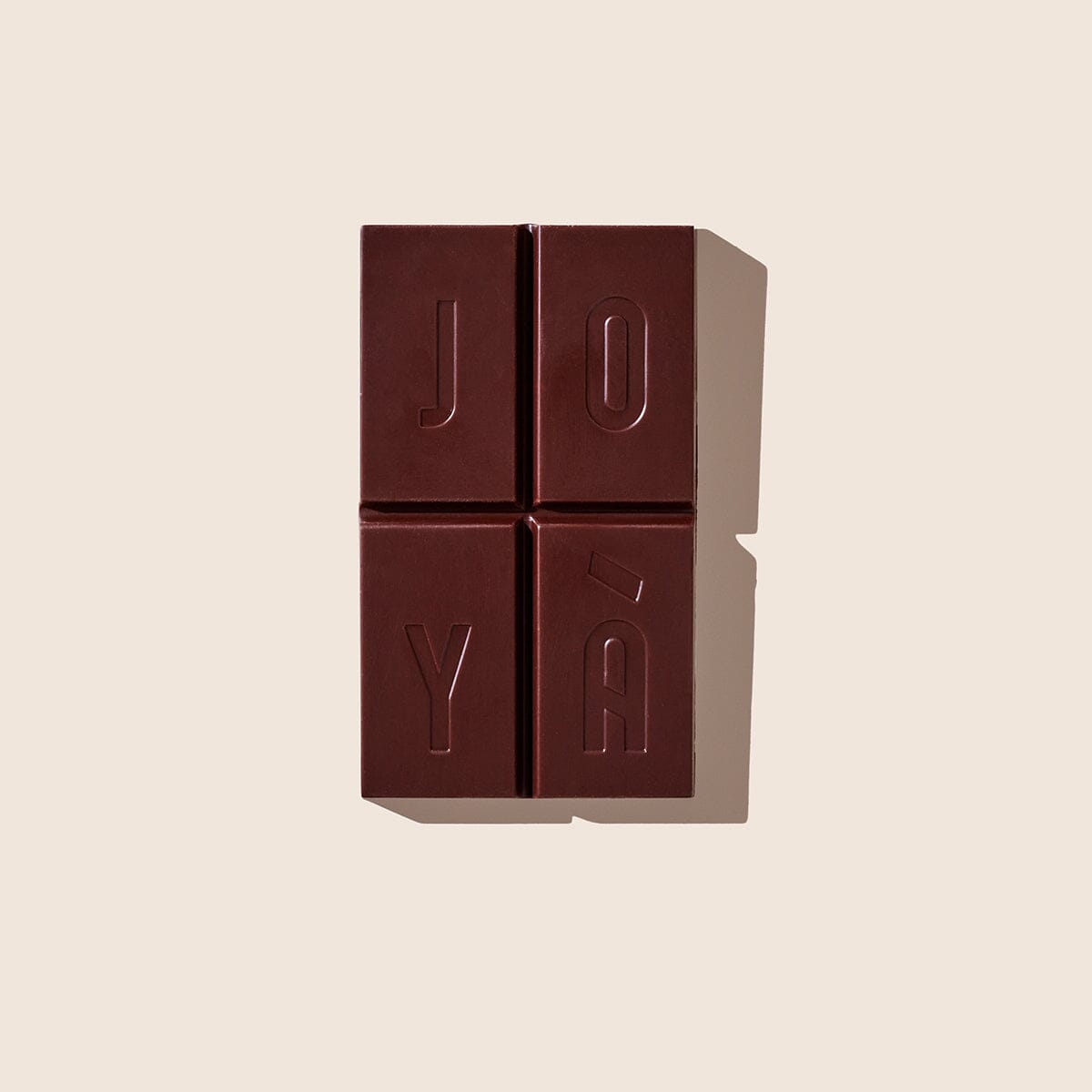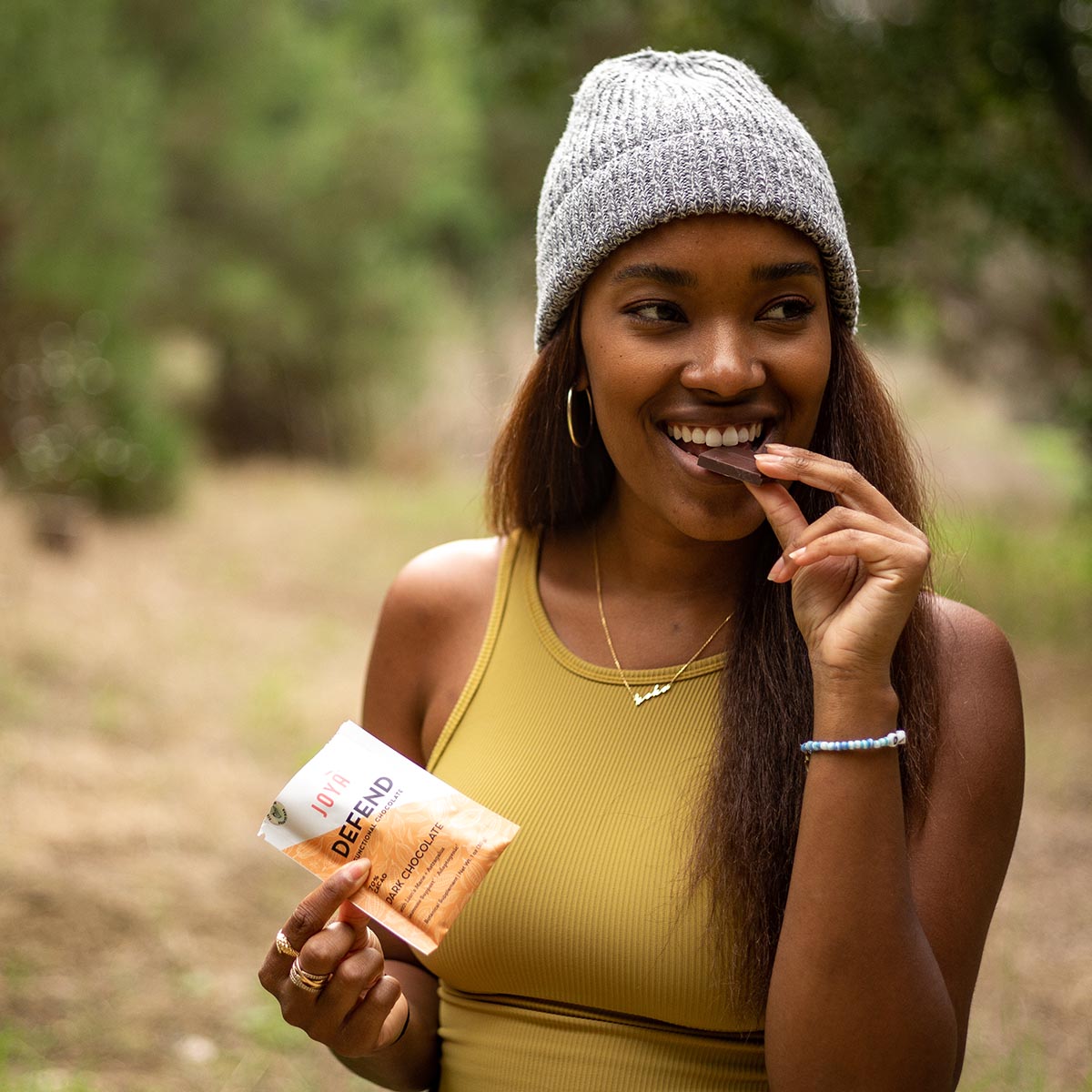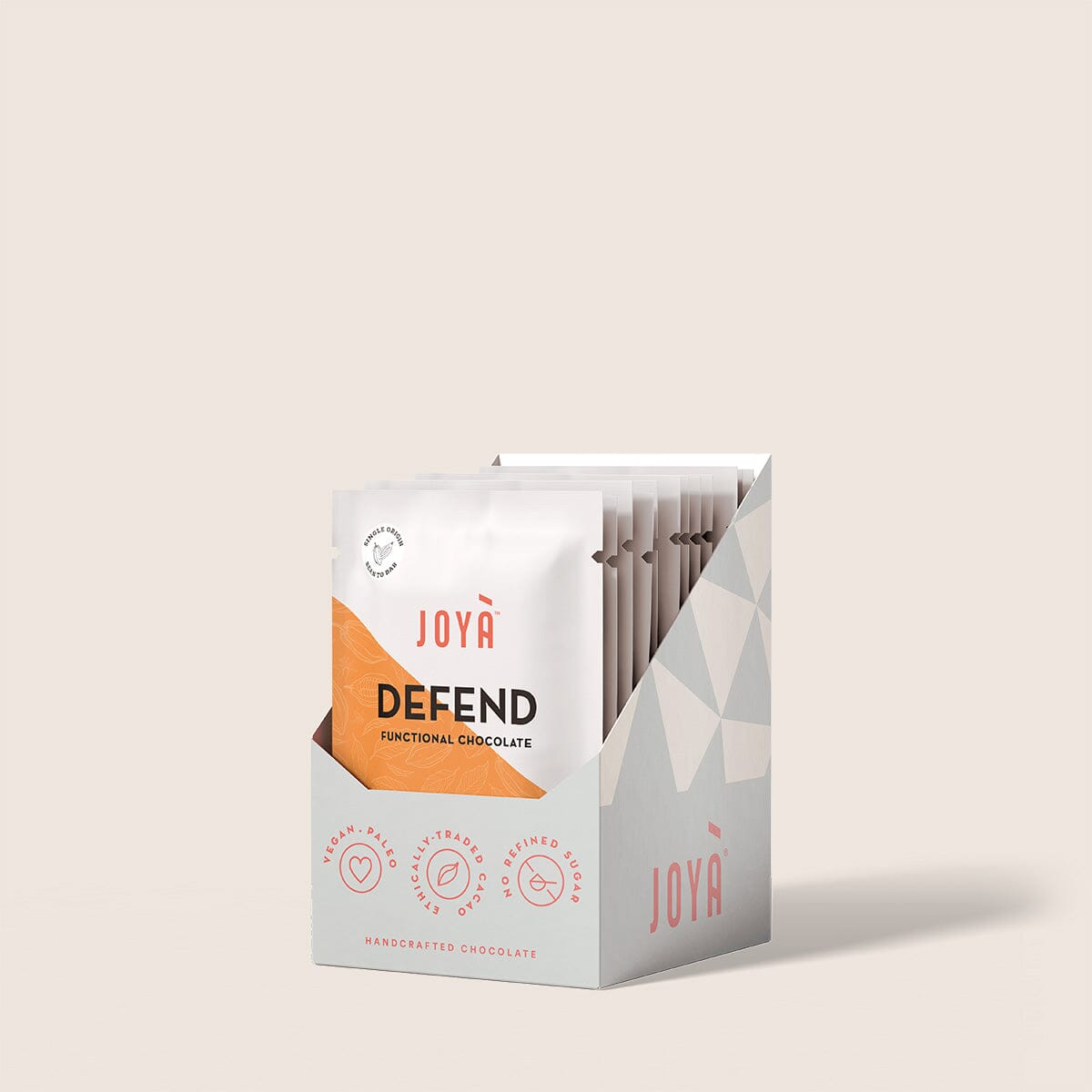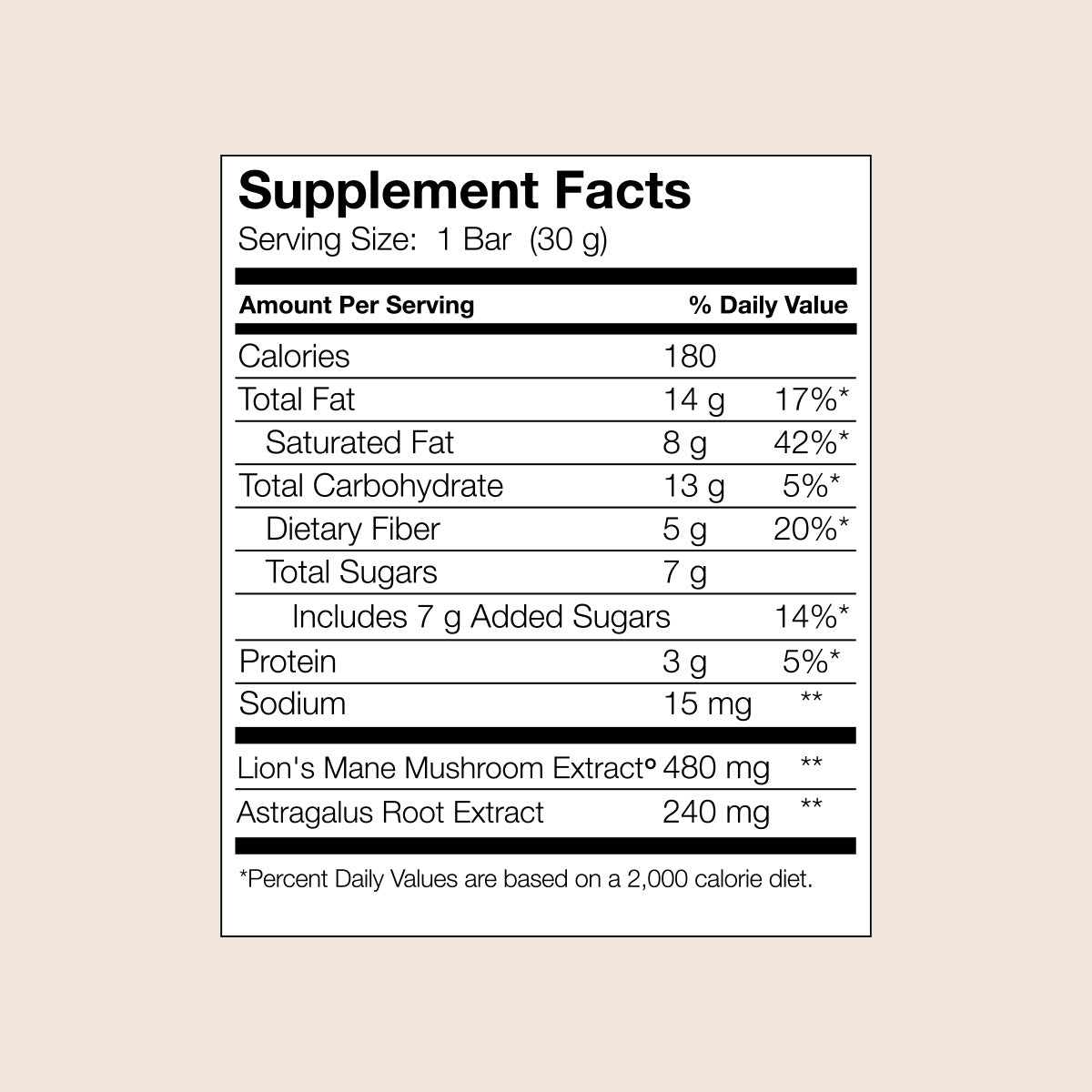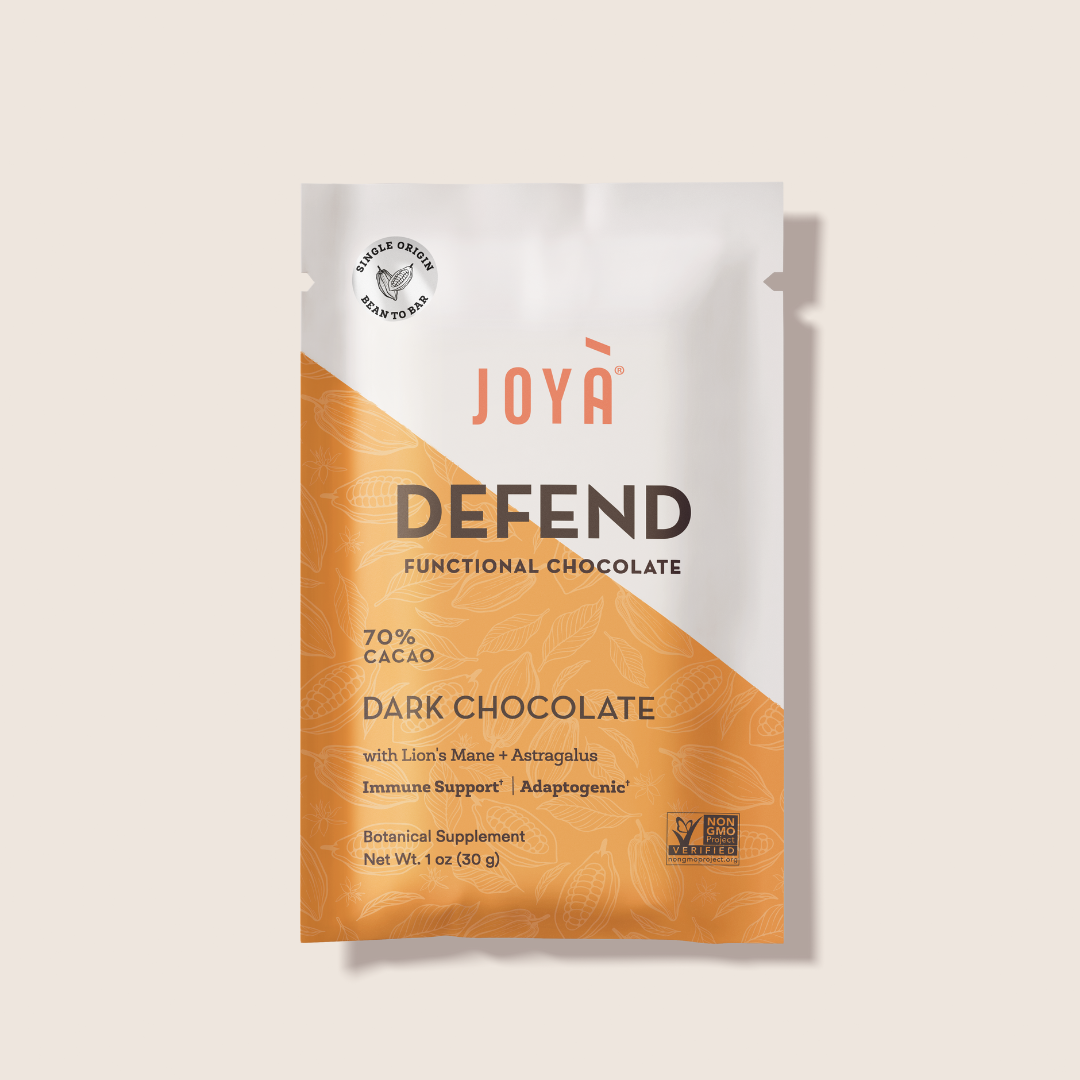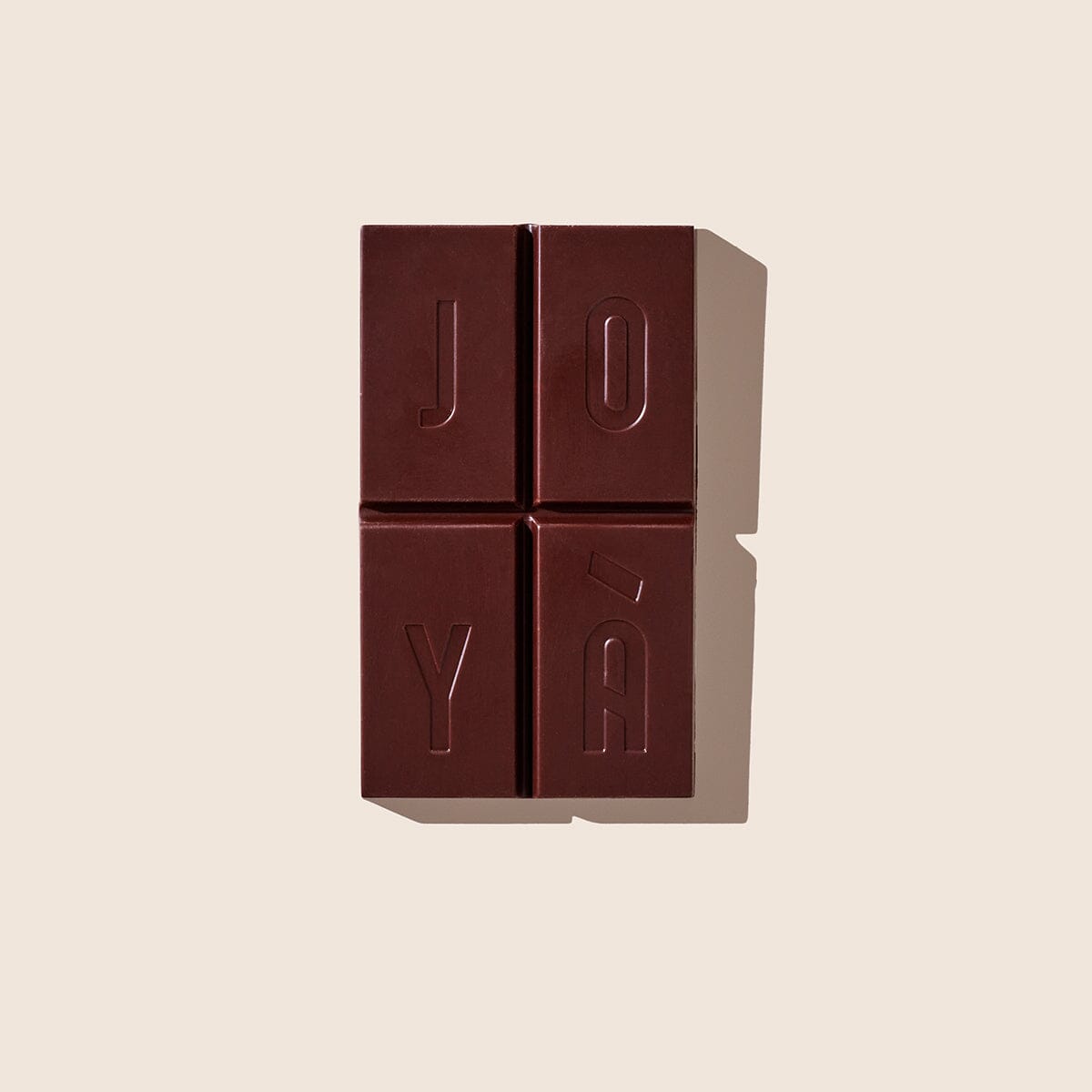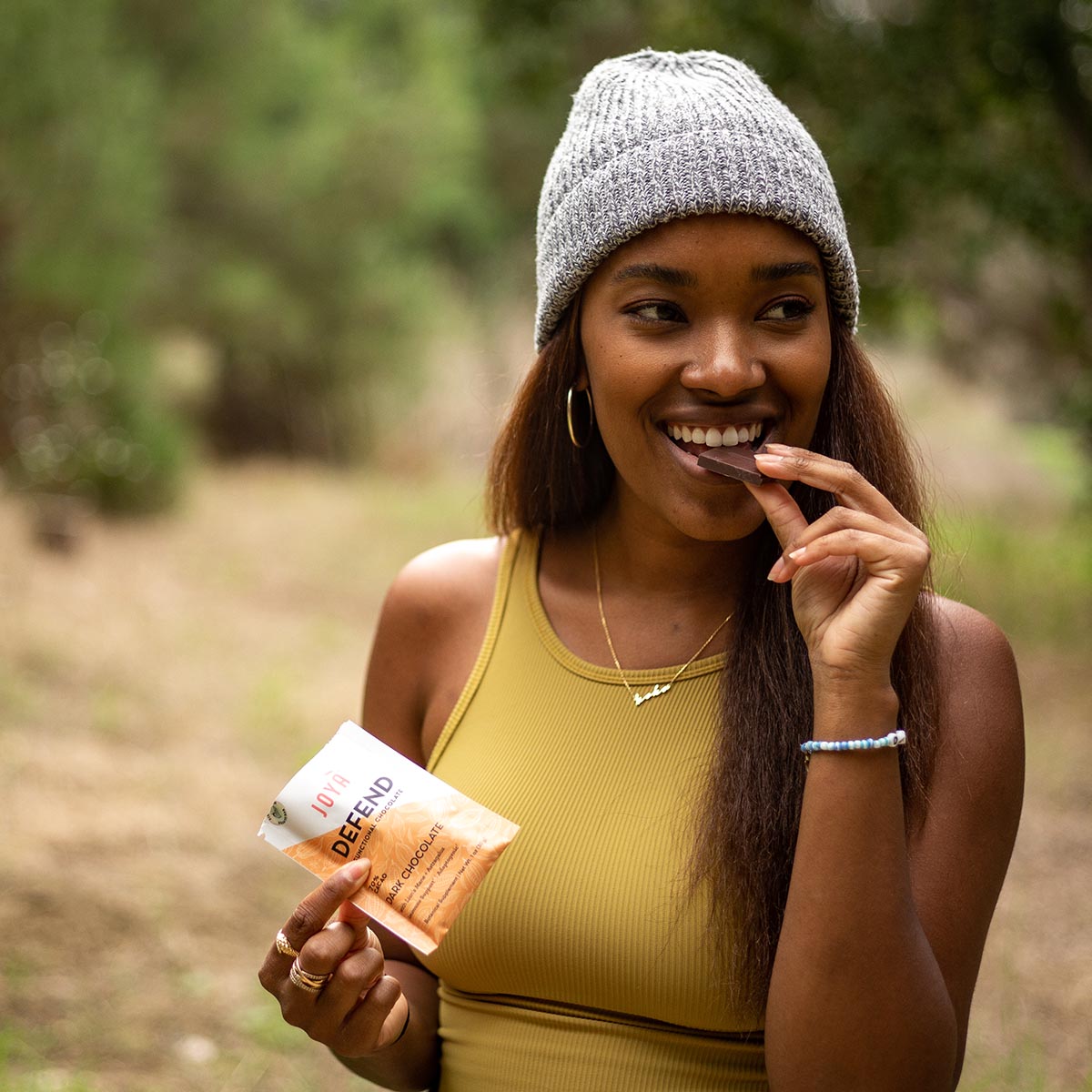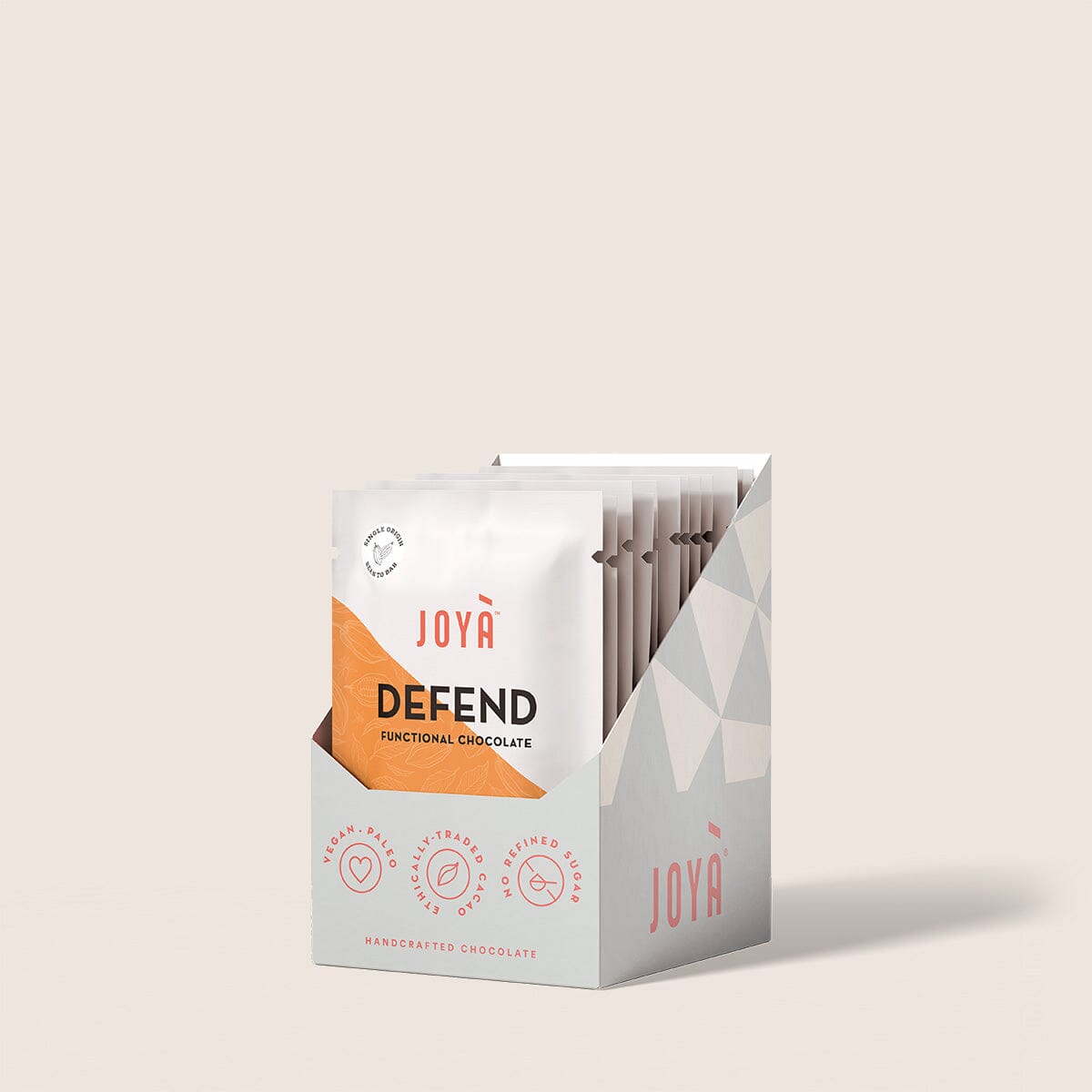 Defend
70% Cacao Dark Chocolate
Stay resilient with revered functional mushrooms and adaptogenic herbs. This fudgy, 70% dark chocolate is powered by lion's mane + astragalus extracts to support your immune system and fight stress.

Cacao mass*, Coconut sugar*, Cacao butter*, Lion's mane mushroom extract*, Astragalus root extract. *Organic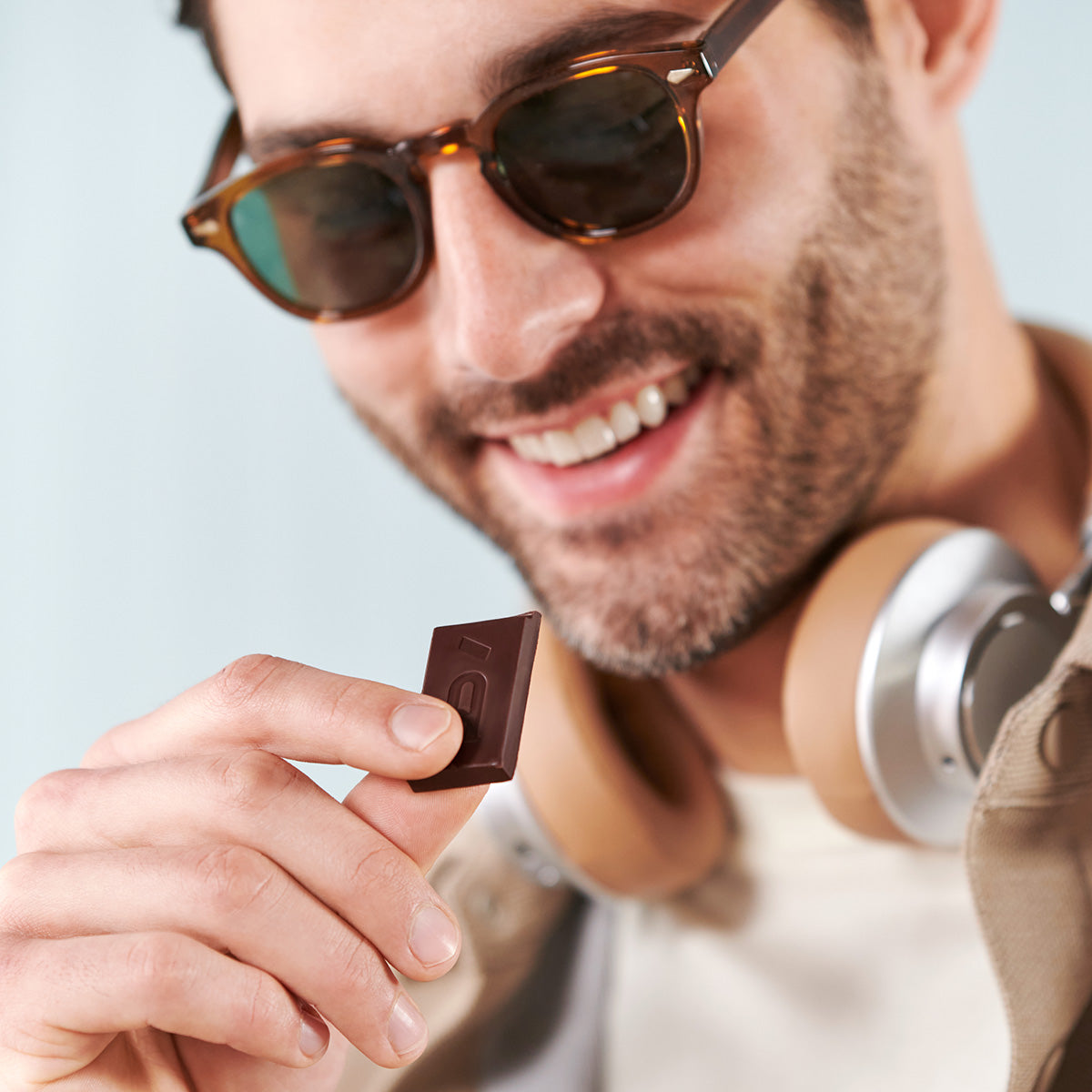 the great-for-you bar
Bites with benefits

Helps maintain strong, healthy immune function

Adaptogens help your body fight stress

Rich in antioxidants that help fight cell damage caused by free radicals

Low sugar + packed with fiber, protein, healthy fats + magnesium
what's inside
The active ingredients in each bar
Learn more about the synergistic adaptogens, functional mushrooms and superfoods working in harmony to support body + mind.
Chocolate Sampler
$26.00
Regular price
$28.00
Can't decide which chocolate is right for you? Looking for the perfect gift? Get the Sampler to try or gift all four decadent Functional Chocolates.
more info
About Defend Chocolate
What ingredients are in your Defend Functional Chocolate bar?
Defend Functional Chocolate is 100% clean and pure and contains only five ingredients (all certified organic):
Cacao mass (single origin and directly-traded), coconut sugar, cacao butter, Lion's Mane mushroom extract and Astragalus root extract.
What you'll never find in JOYÀ chocolate: emulsifiers, lecithin, soy, dairy, refined sugar, gums, wax or any other junk.
Find out more about the functional + superfood ingredients in Defend Functional Chocolate here.
Defend Functional Chocolate is crafted with functional mushrooms and adaptogenic herbs to support your immune system and strengthen your resistance to stress, making it the perfect snack or treat any time of day for a more resilient you.
How much caffeine is in Defend Functional Chocolate?
Defend Functional Chocolate contains 29.4 mg of caffeine per serving, naturally derived from the cacao.
Is it free of dairy, soy, gluten and other common allergens?
Defend Functional Chocolate is considered vegan and does not contain nuts, sesame, gluten, wheat, soy (or soy lecithin) or dairy. However, it is made on shared equipment in a facility that is not free of certain of the foregoing allergens, so there is a risk of cross-contamination, which is why our chocolates are labeled "May contain tree nuts, milk, wheat, eggs". We do not test our finished product and can not make any claims.
Defend contains coconut sugar.
Is it Paleo or Keto-friendly?
Since our Defend Functional Chocolate contains no refined/cane sugar and is sweetened only with coconut sugar, it is paleo-friendly.
Defend is not technically keto-friendly, as under accepted industry guidelines, a snack must have 6 or less grams of net carbohydrates (total carbohydrates minus fiber) per serving to be consideredd a keto-friendlgy snack. However, Defend could be appropriate for a ketogenic diet if appropriately managed into your carbohydrate intake from other foods throughout the day.
Our Defend Functional Chocolate is not certified organic. However, it is made with 100% certified organic ingredients.
How much sugar is in Defend Functional Chocolate?
Each bar of Defend Functional Chocolate contains 7 g of sugar.