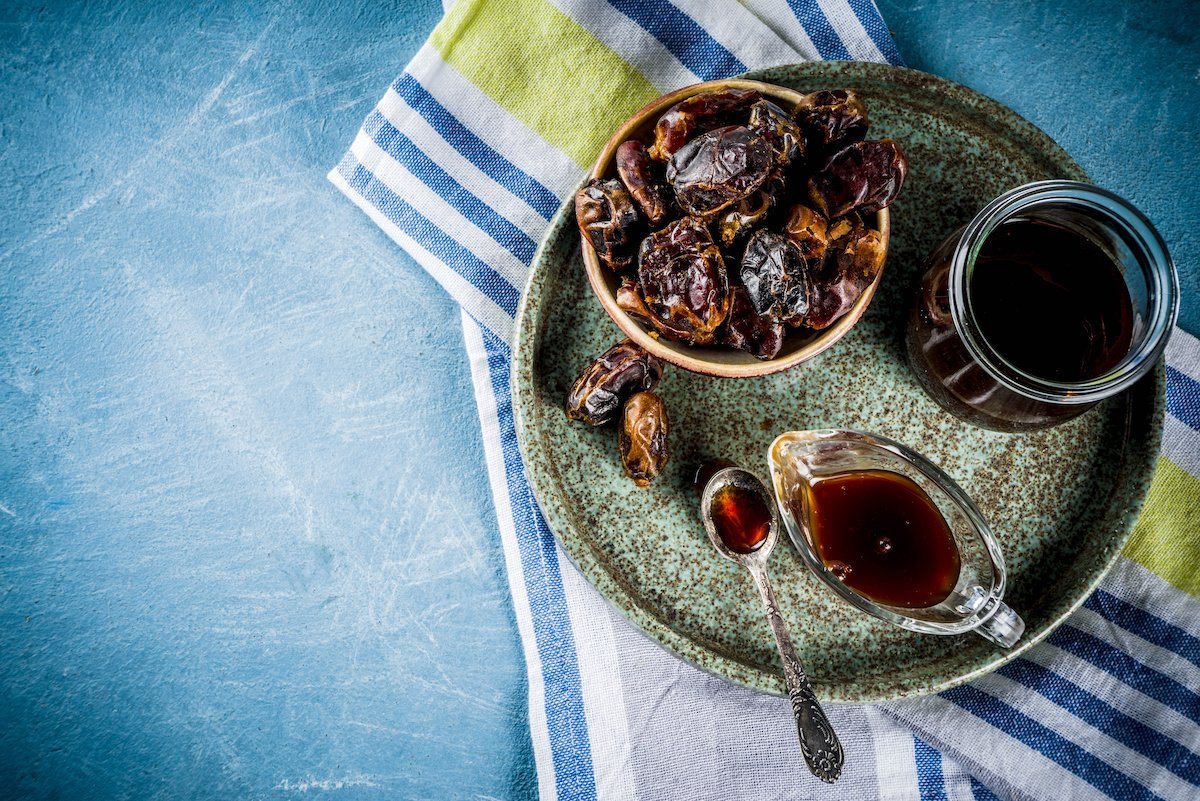 Over the past few years, we've seen a rise in the popularity of alternatives to cane sugar such as honey, maple syrup and coconut sugar. We've also seen specialty and health-promoting sweeteners like pomegranate molasses and manuka honey become staples in innovative chefs' pantries and foodies' kitchens. Another whole fruit sweetener that recently hit the North American mainstream scene and has us particularly excited is date syrup.
What is Date Syrup?
Traditionally used in Mediterranean and Middle Eastern cooking, this dark, molasses-like syrup made from cooked down dates is a staple ingredient across cultures from these regions. While this delicious condiment might be new to many, date syrup — also known as date honey, date molasses, and silan — has been around for quite some time. Some even say the biblical reference of "milk and honey" actually refers to date syrup!
One of the reasons for its popularity is its versatility in both sweet and savoury dishes. Imparting its own unique caramel-like flavour, date syrup can be substituted for honey, maple syrup, molasses, agave, or other liquid sweeteners:
Substitute it into your baked goods such as brownies, bars and granola.
It makes a delicious topping for ice cream, waffles, pancakes and French toast, or mixed into yogurt or oatmeal.
It lends a unique, rich flavour to beverages such as smoothies, coffee, tea and cocktails.
One of our absolute favourite ways to use date syrup is to slather it on a slice of bread with tahini for the popular Middle Eastern version of "peanut butter and jelly."
Date syrup's mild sweetness also makes it your secret weapon to take any savoury dish to the next level:
It's a wonderful marinade for meat, poultry or fish.
It compliments the natural sweetness of roasted vegetables. We love tossing our veggies with some date syrup pre-roasting, or adding a small drizzle after cooking.
Use it to finish just about any dish. Our favourites include grain bowls and fried eggs.
Add it to sauces and dressings for that extra pizzaz.
Another reason to use this delicious natural sweetener is that it satisfies many dietary restrictions, too. Date syrup made from 100% dates is vegan, paleo, rich in nutrients and has a low glycemic index. It's a great sweetener for those looking to avoid the blood sugar spikes caused by many other forms of sugar!
What to Look for in a Date Syrup
As with other food products, not all date syrups are created equal. Many date syrups are filled with citric acid, added sugars, and other ingredients. When searching for a high-quality date syrup, make sure to keep an eye out for those made from 100% dates for the purest, richest-tasting, and healthiest product.
The origin of the dates will also affect flavour and consistency. Most date syrups found on North American supermarket shelves are made from California dates. While these dates are delicious, we found that after tasting a number of brands, Californian syrups were runnier and less robust. In comparison, syrups made with dates grown in the Middle East, specifically Israel and Lebanon, were rich in flavour.
Our Pick
The three sisters behind Soom Foods recently launched Soom Silan, a date syrup made from 100% steamed and pressed dates cultivated in Israel. Soom's date syrup has a perfectly thick texture and full-bodied, rich flavour that we can't get enough of!
We bet you'll continue to see the rise of this sugar substitute in the Western Hemisphere for its delicious caramel taste and versatility. Hop on the bandwagon as soon as you can and experience the wondrous qualities of date syrup!